Angry Birds in spaaaaace beamed to fandroids by NASA
Smash-hit game catapulted into zero-gravity drama
Vid We've had an Angry Bird star constellation. We've had Angry Bird toys on the International Space Station. Now we're finally going to have Angry Birds in space on our mobiles.
Finnish game-maker Rovio is unleashing the newest iteration of its world-dominating mobe game, Angry Birds Space, on March 22, according to the above video announcement from NASA astronaut Don Pettit aboard the ISS.
Flight Engineer Pettit used the Angry Bird stuffed toys on the space station to demonstrate some of the crazy things that catapulted fowl can only do in space, including how they'll behave in zero gravity.
To pimp up the game for its new outing, Angry Bird flingers will be able to fire their enraged avian friends in the weightlessness of space and the gravity wells of nearby planets - NASA collaborated with Rovio to educate punters about the physics of space. The feathered avengers will also have superpowers and new abilities.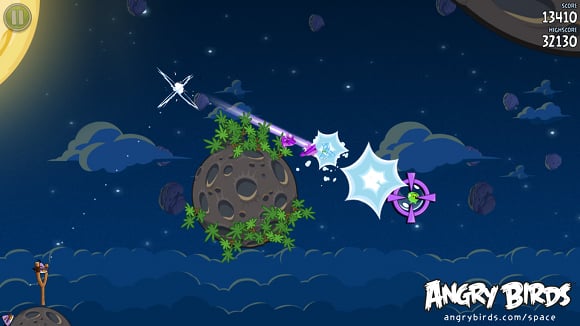 Gameplay from Angry Birds Space. Credit: Rovio
"This collaboration began with a simple Twitter exchange about birds and pigs in space, and it has grown into a tremendous outreach and education opportunity," David Weaver, a communications guy for NASA, said in a canned statement.
"Games are fun and entertaining, but they also can be inspirational and informative. This ongoing collaboration with Rovio and Angry Birds is an exciting way to get people engaged with NASA's missions of exploration and discovery, and get students energised about future careers in science and technology."
Rovio will be showing off Angry Birds Space gameplay on a Samsung Galaxy Note at the SXSW conference in Texas today.
The game will launch simultaneously on iOS and Android, Mac and PC, with animation, merchandise, and book publishing too, on March 22. ®
Sponsored: What next after Netezza?