Wacom Cintiq 24HD interactive pen display
The ultimate keyboard shortcut
Co-ordinated moves
Besides easy to configure software and drivers, the supplied disc also includes some supplementary brushes for Photoshop. The calibration interface is simple and also enabled me to assign most of my favourite keyboard shortcuts to a choice of hardware buttons.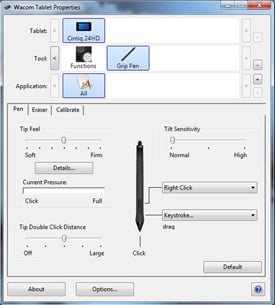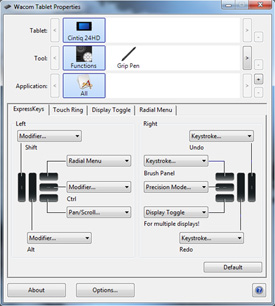 Pen and function keys configuration
The tablet comes on a dedicated stand which makes the whole kit feel solid and exceptionally well built. The screen slides into any position smoothly. The Cintiq's thick outer frame is great for resting my arms giving me that drafting table feel. The Cintiq can be put in several ergonomic positions. The usual vertical or horizontal positions or astonishingly hanging over my desk. This crazy positioning is obtainable because of the 40kg counterweight in the base giving it great stability.
Touch ring and radial menu choices
And here is where this changes from any other tablet experience I have had. Usually, I am drawing onto a tablet on the table and watching my strokes take effect on the screen in front of me – an approach which always has a slightly disconnected feel. By contrast, the experience of drawing on the actual screen of the tablet was extraordinary. As I write this there is a smile on my face just thinking about it.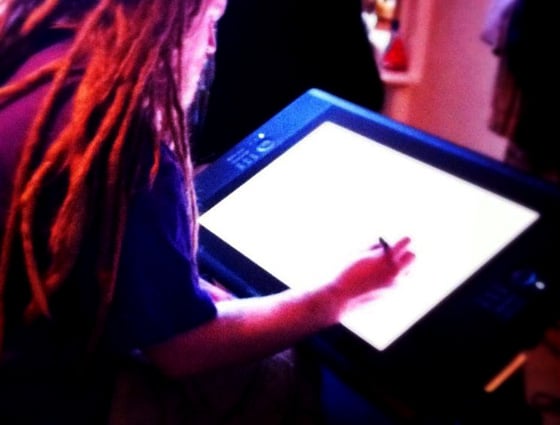 Artist at work: it's big and it's bright
Indeed, it is this intuitive operation that is costing £2000. I didn't detect any lag between physical pen movement and the line I was drawing on the screen. With 2048 pressure levels it as sensitive as anywhere on your body and allows me to build up layers of colour and texture. There are customisable buttons and control rings on both sides for setting your favorite shortcuts such as brush size and quick zoom in and out.
Sponsored: From CDO to CEO