IDC Storage Tracker: NetApp is losing market share
Third quarter in a row
IDC's quarterly Storage Tracker shows NetApp losing market share in disk storage sales for the third straight quarter while EMC rises like a rocket.
IDC's quarterly storage tracker measures external disk sales – networked arrays, in other words – and also total disk storage sales, which also covers server-attached disks. It has just published its fourth quarter 2011 and full 2011 year results. The IDC said:
Worldwide external disk storage systems factory revenues posted year-over-year growth of 7.7 per cent, totaling just under $6.6bn, in the fourth quarter of 2011 (4Q11)... For the quarter, the total disk storage systems market grew to just over $8.5bn in revenues, representing 3.5 per cent growth from the prior year's fourth quarter. Total disk storage systems capacity shipped reach 6,279 petabytes, growing 22.4 per cent year over year.
On an annual comparison basis, NetApp gained market share in the fourth 2011 quarter compared to the fourth 2010 quarter as the IDC chart below shows.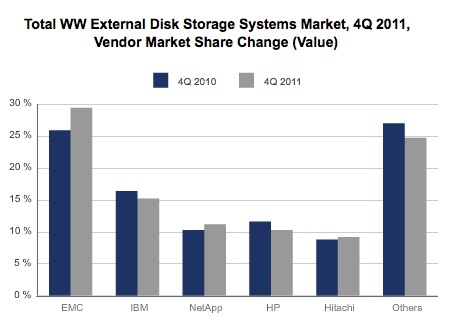 IDC chart
The same NetApp revenue share increase picture is shown by IDC's full year storage tracker numbers:
NetApp's 2011 revenue – $2.911bn
NetApp's 2010 revenue - $2.352bn
However, if we look at the sequence of quarterly external disk revenue market share percentages, we see NetApp steadily losing market share, as measured by IDC.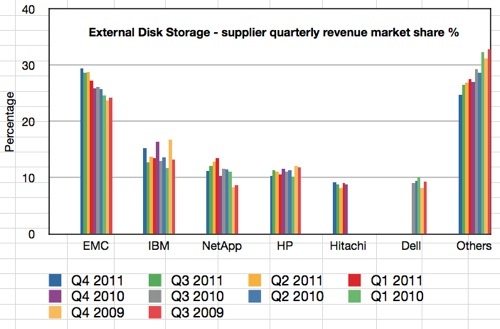 IDC numbers
Dell has been included in the "Others" category in recent quarters by the IDC because its external disk storage sales have been so low.
IDC's total quarterly disk storage revenue market share numbers show a more realistic picture from the server vendor's point of view, as server-attached storage is included.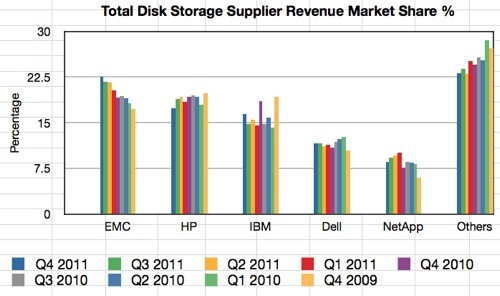 IDC numbers
NetApp's numbers don't change of course, and neither do EMC's. Dell's look substantially better. HP shows two recent quarters of decline. IBM's most recent quarter shows substantial growth, while Hitachi Data Systems is now in the "Others" category. Its two most recent quarters do show growth in external storage sales though, unlike NetApp's most recent quarters.
If we extract the IBM, NetApp, HP and EMC external storage numbers and chart them with a line format, the NetApp decline becomes clearer: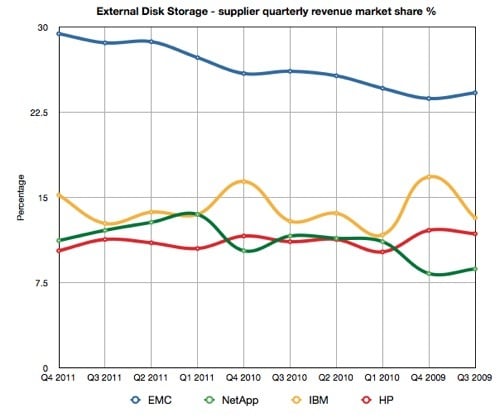 IDC numbers
NetApp's own quarterly revenue numbers show a steady sequential rise. The company's revenues are growing each quarter. (Chart runs left to right.)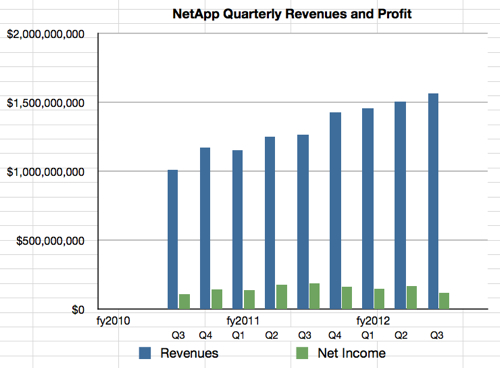 NetApp quarterly revenues and profits.
The trouble is that some other suppliers' revenues are growing faster and NetApp is losing market share as judged on a revenue basis. Charting IDC's total quarterly disk storage numbers shows this clearly: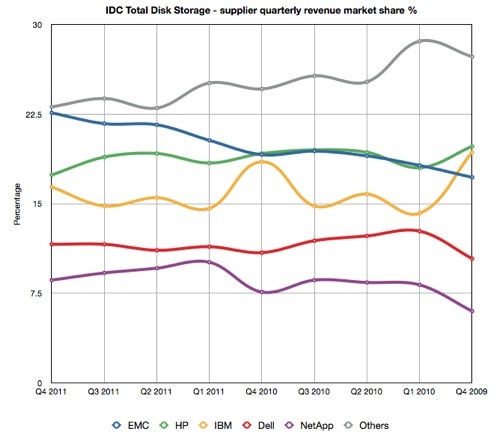 What does this mean?
It indicates that, although NetApp's revenues are growing, the disk storage market as a whole is growing faster and NetApp is being left behind. EMC is growing the most, and steadily and significantly. IBM has had an upturn. Dell is holding its own while HP is seeing its revenue market share decline more steeply than NetApp – but then again, it has further to fall, although its server-attached storage revenues should act as a limiting factor, a factor which NetApp does not have.
Basically, NetApp could have a much higher disk storage market share if it had managed to buy Data Domain. Instead EMC snatched Data Domain out of its hands and that has enabled EMC to continue growing strongly. Meanwhile NetApp, lacking a deduplicating disk-to-disk/virtual tape library product, has languished.
This situation has probably not been helped by the extraordinary length of time it took to integrate the scale-out clustering technology from the Spinnaker acquisition into NetApp's ONTAP operating system, and the growth effect of that is looking to be limited by EMC's acquisition of Isilon and its scale-out filer technology. EMC is also being publically more aggressive about flash, particularly server-located flash.
Of course NetApp also makes storage software, but there too its revenues are on a downwards trend.
NetApp's Engenio acquisition has not yet changed NetApp's disk storage revenue market share trend direction. Unless NetApp can find accelerated growth from somewhere – possibly by the acquisition of a high-growth storage start-up rather than minor "tuck-in" acquisitions – it is running the risk of becoming a disk storage also-ran. ®