IT channel swamped with cash from bargain-hunting small biz
Double-digit distie sales rise in January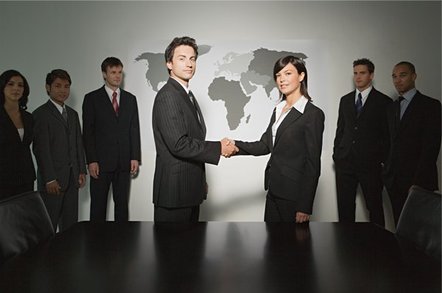 The IT channel tweaked the nose of the recession during January with UK disties transacting £525m worth of tech sales, according to stats from bean counter Context.
This represents a year-on-year sales-out rise of nearly 16 per cent - not bad given all the talk of economic meltdown. Tablets and telecoms gear were the hottest sellers.
Jeremy Davies, CEO at Context, said there was a seasonal sales uplift as SMEs looked for post-Christmas deals, adding: "Small businesses were bargain hunting."
Broken down by sector, computing kit accounted for just over 24 per cent of distributor revenues, down from 28.2 per cent in 2009 and 24.6 per cent in 2011, as wholesalers eyed up higher margin areas.
Overall, PC sales climbed 11.6 per cent, fondleslabs leaped by 90 per cent and notebooks inched up three per cent - but servers and desktops revenues declined 17.2 per cent and 1.6 per cent respectively.
The channel's bolder move into telecoms kit - smartphones and videoconferencing - was also apparent, with distie revenues up 57 per cent.
Networking sales climbed 14.2 per cent, display revenues were up nearly four per cent and warranties and services sales edged up 3.8 per cent.
However, not all was rosy in the UK with printer hardware revenues diving 28 per cent and consumables down 1 per cent, while storage sales slumped 26.7 per cent.
Davies reckoned businesses are migrating to managed printing services and running off fewer pages - a trend flagged up by HP recently. He said the collapse of revenues in the storage channel was "purely down to the disk drive crisis".
Distie sales of PC components dropped 8.8 per cent and computer accessories declined 23.8 per cent, the numbers revealed. ®
Sponsored: Minds Mastering Machines - Call for papers now open