App cuts waiting out of call centre queues
No charge, apparently
A free app that takes away the frustration of being kept on hold during phone calls to corporations has launched in the UK, saving mobile users a pretty penny in the process, its developer claims.
Matt King's WeQ4U promises to do all the waiting for you. The patent pending app allows you to hang up without losing your place in the call-waiting queue.
The free app is available for Android and iPhone users. It first looks up the number you want to dial, including 08 numbers, to make sure it's compatible.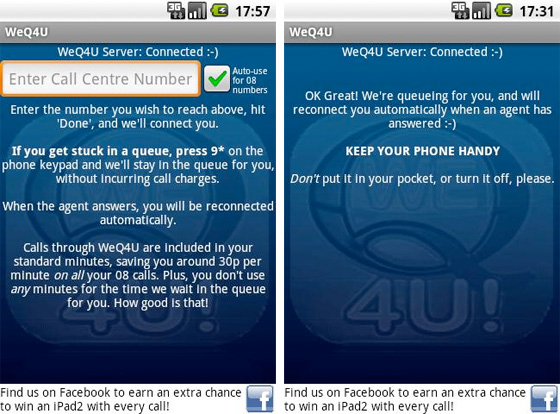 The minute you're placed on hold, press 9* to disconnect the call. When the company finally answers, the app immediately calls your phone to re-establish the connection.
King insisted that while WeQ4U holds your place in the call queue, you won't be charged, nor will your airtime minutes be depleted.
King said WeQ4U makes no profit whatsoever, despite the fact it costs money to run. The only benefit it receives is "Great Karma".
"The pain of getting through to call centres is frequently cited as the number one annoyance of modern life," he told Reg Hardware. "We want to take that away for people."
A similar amenity is available for landline callers. ®