Bytes, Nettitude sales bods busted in IT invoice bung scam
Bent procurement chief 'corrupted them', says lawyer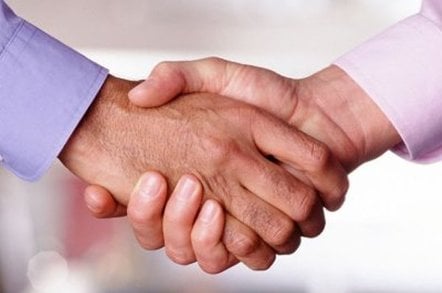 Former sales staff at resellers Bytes Software Services and Nettitude have been sentenced for their part in a scam involving an IT procurement director who created bogus invoices and hiked prices in return for cash bungs or "sweeteners" totalling more than £50k.
Great Grimsby Court heard on 10 February that Lincolnshire-based firm Nisa Today's had overpaid £123,000 for products ordered by its IT procurement boss Trevor Guerin, according to This Is Scunthorpe.
The 37-year-old was jailed for two years after admitting offences including breach of trust and fraud by inflating invoices over five years.
Barry Hesk, working at the time as Nettitude networking consultant and director at the company – according to his LinkedIn page – and Aatish Dudani, account manager at major public sector supplier Bytes when the offences were committed, admitted to offences of conspiracy by artificially raising the value of order on invoices and abusing their positions of trust.
Hesk received a 26-week prison sentence suspended for 12 months and was ordered to carry out 200 hours of community service, while Dudani received a 12-month community order and will be required to fulfil 150 hours of unpaid work.
Judge Simon Jack said Guerin was the "driving force" behind the fraud.
"If you are dishonest you will get away with it. That was the temptation. You realised you could make a substantial amount of money buying software that did not exist or was inflated (in price)," he said, according to the local report.
Prosecutor Gordon Stables said neither Hesk or Dudani knew of each other's deals with Guerin, which involved inflating the cost of kit, some of which was not supplied.
The sales reps moved substantial sums of money into two firms set up by Guerin – Trevor Guerin Consultancy and Catalyst Network Services Ltd.
Stables said more than £34,000 and "sweeteners" were given to Guerin by Hesk and a similar amount was received by Nettitude in the bogus deals, though the money was later repaid to Nisa. In one deal a £700 Oracle Crystal Ball licence cost Nisa £18,700.
He said Dudani handed over £16,000 in total to Guerin, and Bytes received £39,000, of which £8,789 was given to the account manager as a bonus.
Representing Hesk, Sasha Wass QC said her client felt "enormous remorse" while Pavlos Panayi acting on behalf of Dudani - who has returned proceeds of the fraud to Nisa - said he was a "model employee" who was corrupted by Guerin.
Karen Tunnacliffe, defending Guerin, said: "He accepts entirely what he did. He was in a difficult position at the time. He should have extricated himself from the deals."
In a statement sent to The Reg, Bytes boss Neil Murphy said: "One of our former sales people has been implicated in a case of fraud perpetrated by a customer who has since been imprisoned ...
"In the 30 years that Bytes has been trading this is the first time we have been a victim of an incident of this kind and we are pleased that it has now been dealt with by the authorities".
Rowland Johnson, managing director for Nettitude Limited, said: "Barry Hesk resigned immediately the matter came to light". He added that Nettitude had "made sure that Nisa Today's was repaid in full. Nettitude has strong integrity and business ethics".
A proceeds of crime hearing against the three men is scheduled for 13 July. ®