Disk shortages stall Q4 server sales (a bit)
Tier one players slip – except Dell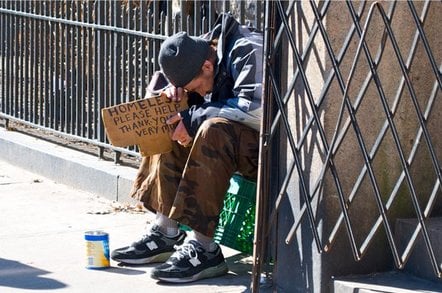 Considering the challenges that the server biz has faced in recent months, global server shipments have remained relatively healthy, with revenues impacted mostly by declining IBM mainframe sales.
Server shipments in the final quarter of 2011 were adversely impacted by the disk drive shortages from the flooding in Thailand, where about a quarter of the world's disks and many subcomponents are manufactured. In addition, shipments were likely impacted a bit by delays of Intel and AMD's upcoming Xeon and Opteron server-chip launches.
Still and all, business is reasonably good for server makers.
The analysts at Gartner, which just handed out their report cards to server makers for Q4 and the full year, reckon that the world consumed 2.5 million servers in the final three months of last year, up 4.5 per cent from the prior year's fourth quarter. Revenues, however, were down by 5.4 per cent to $13.91bn.
While there were a lot of factors contributing to the revenue decline, one of the major ones – according to Jeffrey Hewitt, the research VP at Gartner who does the box counting – was the expected decline of IBM's System z mainframe sales as the zEnterprise 114 and 196 machines come to the end of their cycle.
Hewitt tells El Reg that IBM's System z mainframe sales fell by 31 per cent to $1.37bn in Q4. Plummeting sales of Unix servers based on RISC and Itanium servers made by HP, Oracle, and Fujitsu also contributed to the overall server revenue decline.
The modest increase in x86 server shipments – just under 116,000 units – simply could not fill in the revenue gap made by mainframe and Unix server declines. Without the disk shortages, Hewitt says that maybe another couple hundred thousand x86 servers might have shipped in Q4, and if you take the average selling price of an x86 box in the quarter and multiple it by 200,000 units (just for fun), you get $765.6m in incremental revenues. That extra x86 server iron would have put sales at the same level, more or less, as last year's Q4, even with the mainframe and Unix drops.
In the quarter, Gartner calculates that x86 machinery accounted for 2.45 million units, and drove $9.38bn in revenues worldwide. That's 5 per cent growth in shipments and 2.6 per cent growth in revenues compared to a year ago.
HP remained the top shipper of x86 iron, with 696,648 boxes out the factory door (down 7.7 per cent) and sales of $3.04bn (down 11.3 per cent). Dell is coming on strong, particularly in the Americas region, and managed to boost x86 server shipments (the only kind it sells) by 11.2 per cent to 573,125 units, and revenues by 7.3 per cent to $2.06bn – Dell is obviously on a roll selling lots of cheaper x86 boxes.
IBM's System x business was down a smidgen (two-tenths of a point) to 304,581 units and $1.66bn in revenues, off 1.6 per cent.
On the Unix front, sales were off 8 per cent across all vendors to $2.73bn. IBM's Power Systems iron was the only Unix platform to show growth, with sales up 18 per cent to $1.57bn, according to Gartner's estimates, while HP's Integrity and Superdome platforms stomached a 32.3 per cent decline to $561.5m and Oracle's Sparc/Solaris platform sales dropped 23.8 per cent to $485.8m.
Fujitsu had a 44.2 per cent decline in Unix sales to a mere $43.2m, and even dropped behind France's Groupe Bull in the Unix sales rankings. Bull resells IBM's Power Systems iron under its own brand and had 63.5m in revenues from these boxes, off 6.2 per cent from the year-ago period.
Of course, what everyone in the server racket is watching is networking giant and server-seller wannabe Cisco Systems, which like Dell only sells x86-based iron. (And specifically, only Intel Xeon based iron so far.)
Hewitt tells El Reg that Cisco accounted for about 8 per cent of blade server shipments and about 10 per cent of blade server revenues in the quarter, which puts it ahead of Dell in blade revenues and behind Dell in blade shipments. (HP and IBM are the leaders in blades and have been going back and forth for years there, but HP is winning with 44 per cent of shipments compared to IBM's 21 per cent.)
Taking into account both rack and blade servers, Cisco accounted for 1.8 per cent of all shipments (a little more than 45,000 machines) and ranked sixth behind Lenovo by just a few thousand machines. However, Cisco's Unified Computing System blade and rack servers sport integrated networking, and that helps drive up the ASPs, so Cisco actually ranked sixth worldwide in server sales in Q4, with $321.3m in revenues, up 123.4 per cent.
Across all x86 servers, Cisco already ranks fourth in the world ahead of Fujitsu, but has a long way to go to catch IBM, which generates more than five times as much sales from its System x line.
It's safe to say that Cisco has established itself in servers and is taking share. How much more share can it steal? It will take a few more years to really tell.
When you add it all up in Q4, IBM had $4.68bn in server sales, down 10.2 per cent, and beat HP for the top revenue ranking with a comfortable margin as HP's sales sunk 16 per cent to $3.74bn. (It wasn't too long ago when HP was on top.)
Dell came in third with its $2.06bn, followed by Oracle with $735.4m, down only 8.7 per cent. If you assume that everything that is not Sparc/Solaris from Oracle is some form of x86-based Exadata, Exalogic, or Exalytics machine, then the Exa line did quite well with sales up 48.4 per cent to $249.6m.
Fujitsu rounded out the top tier server makers with $496.2m in revenues in the fourth quarter, off 11.5 per cent. Other vendors, bolstered by Cisco and a few other players, grew 25 per cent to $2.19bn.
For the full year, companies consumed 9.52 million servers, up 7 per cent, and that generated $52.8bn in revenues, up 7.9 per cent.
So what is 2012 going to look like? Probably a lot like 2011, only with slightly different processor and system names.
"The outlook for 2012 suggests that growth will continue," Hewitt said in the statement accompanying the Gartner server figures. "These increases continue to be buffered by the use of x86 server virtualization to consolidate physical machines as they are replaced, but the introduction of new processors from Intel and AMD is likely to help fuel and initiate a new round of server replacement cycles." ®