Cray ekes out profit in diminished Q4
Banking on Nvidia 'Kepler' GPUs in 2012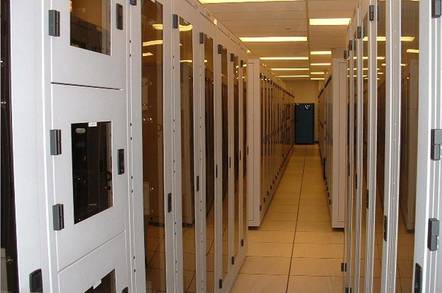 Supercomputer maker Cray took a bit of a hit in 2011 thanks to AMD's delay in shipping its "Interlagos" Opteron 6200 processors, which had a cascading effect on shipments and acceptances of Cray's XE6 and XK6 machines in the fourth quarter.
But despite the delays, which made sales smaller than Cray had hoped this time last year, the company managed to squeak out a small profit in the quarter.
In the quarter ended in December, Cray's product revenues were $75.2m, down 61.9 per cent thanks in part to the slippage of the first phase of the "Titan" hybrid CPU-GPU system upgrade at Oak Ridge National Laboratory from Q4 into Q1. That slippage alone accounted for $60m in revenue that was slated for the December quarter. Cray's services revenues in the fourth quarter fell by 26.2 per cent, to $16.3m. Overall sales were $91.6m, off 58.3 per cent.
Because Cray didn't make as many big machines, its underlying parts costs were lower in the quarter, and its research, development, sales, and marketing costs also fell. And thus, the company had $17.2m in income from operations in Q4.
And when Cray tacked on a tax benefit of $14.5m from loss carry-forwards from prior years, the company actually had a net income of $31m in Q4, down more or less in synch with revenues from the final quarter of 2010 and a bit higher than expected because gross margins were about five points higher than the average for 2010 and 2011, thanks to a better mix of product and services sales in the final three months of last year.
That income tax benefit was not taken for Q4, but rather got Cray to show better numbers than it would have otherwise for the full year. For all of 2011, Cray had $155.6m in product sales (down 34.9 per cent) and $80.5m in services revenues (up a fraction of a point). Total sales were $236m (down 26.1 per cent) and the company was essentially at breakeven for the year until it booked that tax bennie.
Brian Henry, Cray's CFO, said in a conference call with Wall Street analysts that the company had another $110m in loss carry-forwards in the bank for net income rainy days.
Peter Ungaro, Cray's president and CEO, said in the call that the first phase of the Titan upgrade of the "Jaguar" system at Oak Ridge had been accepted for delivery, so that $60m is in the bag for the first quarter of 2012.
Ungaro added that the company is anticipating that Nvidia will launch the GPU coprocessor versions of its impending "Kepler" graphics processors sometime in the second half of 2012, when the second phase of the Titan machine will be put into place. The "Blue Waters" contract that Cray landed last fall for $188m at the National Center for Supercomputing Applications at the University of Illinois also uses a mix of Opteron-based XE6 server nodes and hybrid Opteron-Kepler XK6 nodes.
"We're confident in our plans to deliver these two systems in 2012," Ungaro said, adding that he could not provide a specific month, but that Cray believed it would be sufficiently early enough for the company to get the Titan and Blue Waters (a 10 petaflopper with expansion capability) both installed and accepted – and therefore eligible for revenue recognition – this year.
Cray, said Ungaro, is also banking on generating around $40m in revenues from three focus areas it has established in the past several months: midrange HPC systems, parallel storage, and big data.
As El Reg previously reported, Cray has just created a big-data unit called YarcData, and Ungaro says that the first products will come out from this unit in the coming months.
Cray has also rejiggered its XE6 product line to get an entry XE6m product down to $200,000 for a 6.5 teraflops of number-crunching oomph. And at the SC11 supercomputing conference last fall, Cray launched its riff on Lustre clustered disk arrays, called the Sonexion 1300, which is in evaluation now at selected customers (including NCSA for the Blue Waters project) and which will ship in volume in the second quarter when the disk drives that Cray needs for the machine are back in the market in numbers that Cray needs.
By the way, Cray has no intention of stopping sales of disk systems from Data Direct Networks or NetApp, which have been partners with Cray for some time. But Ungaro said that Cray believed that there was an opportunity for Cray to sell homegrown arrays with a balance between bandwidth and capacity. The DDN units are really aimed at high bandwidth, and the NetApp arrays are aimed at higher capacity.
The other thing that Cray is focused on this year – aside from closing as many XE6 and XK6 deals as it can – is finishing development of the "Cascade" supers, which are based on Intel Xeon processors in their initial implementation and which sport the faster "Aries" interconnect that links nodes and their coprocessors through the PCI-Express 3.0 bus. (The current "Gemini" XE interconnect uses HyperTransport links to connect CPUs in the cluster, which in turn can reach out over PCI-Express 2.0 links to GPUs, if the system has them.)
Ungaro said that the plan is to get an early prototype of the Cascade system to the US Defense Advanced Research Project Agency by the end of the year. DARPA has been paying for the development of the Cascade system as part of its High Productivity Computing Systems program, and Cray has been paid in installments for the R&D behind the project, which it offsets against costs as the money comes in from Uncle Sam. The plan is to have the Cascade prototype shipped to DARPA at the end of the year, and then to have it commercially available in the first half of 2013.
Henry said that Cray expects sales to be between $400m and $420m in 2012, with the usual caveat that a "wide range of outcomes was possible," as Henry warned in both 2010 and 2011. That's a heck of a jump in sales, thanks in large part to Titan and Blue Waters.
And, Henry added, Cray will be "solidly profitable" this year, as well. ®