Playboy, Virgin Galactic tout zero-grav nookie in spaaaaace!
Printed food served by frisky jetpack bunnies
Quality journalism bastion Playboy has teamed up with boffins at Virgin Galactic to create the one thing missing in the universe - a Playboy Club in space.
Enlisting the help of futurists as well as rocket scientists from the civilian space company of Richard Branson, Playboy has envisioned what it calls a "celestial mecca" for pleasure-seekers.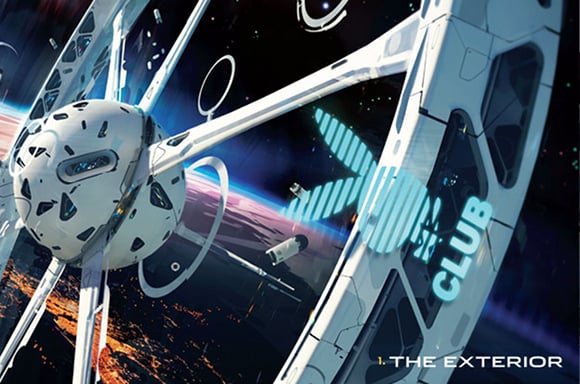 The Playboy Club in orbit. Credit: Thomas Tenery, Playboy Magazine
The galactic Playboy Club will be on a station in orbit, which can circle Earth or indeed any other celestial bodies.
"You could literally swing around the dark side of the moon," Virgin Galactic head designer Adam Wells said in an article for Playboy.
The ship, which clearly owes some design inspiration to Star Trek: Deep Space Nine, will be a stationary, zero-gravity superstructure and an outer ring that spins centrifugally, thereby creating artificial gravity.
Billionaire playboys and regular folks who will work on the station will get there by rocket, but cargo for the club will "arrive by machine gun". Presumably to add a frisson of fear to the general merriment aboard the station, Playboy reckons shooting supplies in cargo bullets from Earth could be a good idea.
"We might create guns big enough to shoot things into space," futurist Thomas Frey said. "Humans couldn't withstand those g-forces, but it would be ideal for supplies."
Again, you have to give a nod to some Star Trek inspiration when Playboy tells you that the restaurant will have "organic printers" to make food, with "vats of organic material" attached - mmm, appetising.
Naturally, dancing will take place in zero-gravity for a "psychedelic experience", with trampolines on the walls so dancers can ricochet around in a three-dimensional mosh pit. No mention was made of a hospital wing or sick bay on the station.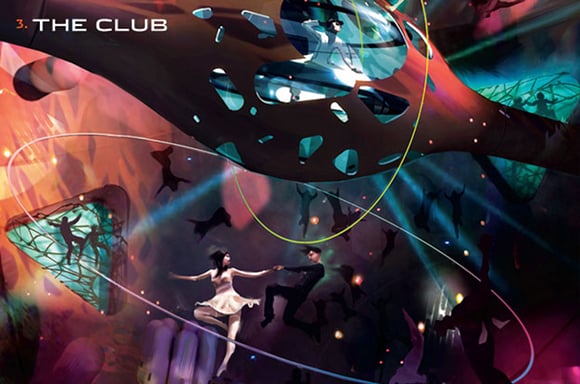 The zero-gravity dance club.
However, the prerequisite bunnies will be in evidence, zooming around with jet packs and serving "globules of floating liquids as drinks".
And of course, it wouldn't be a celestial pleasure palace without… a game room. So Playboy wants to serve up 3D games, a giant roulette wheel where the player is inside the ball, and some bungee jumping through space.
And, yes, there will also be sex.
"Personal quarters will serve as the first zero-gravity sex suites," Playboy said, naming the rooms "pleasure orbital domes or PODs".
But mind how you go, zero-gravity friskiness could be a bit tricky, since for every action, there will be an opposite reaction - think of the fact that if you give something a slight shove in zero-gravity, it tends to fly across the room and you can see how hanky-panky might take a bit of practice. ®
Sponsored: What next after Netezza?