Dell: Not looking for lock-in, just lovin'
Big Mike covers your end, and the other end, too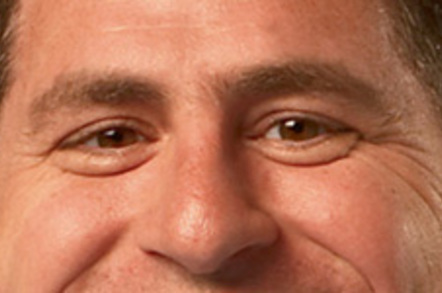 Dell doesn't want to be IBM, like HP sometimes seems to, but it wants to be enough like those two that it can kick their asses in the data center and still be best buddies with systems software makers such as Microsoft, Red Hat, and Oracle. That, in short, was the message from the top brass at Dell's PowerEdge 12G systems launch at an event in Silicon Gulch today.
The company that Michael Dell created in his University of Texas dorm room in 1984 mastered direct sales of PCs and then servers, and worked the massive supply chain behind those PC and server businesses, making it tough for channel-driven companies such as IBM and HP to compete.
In the middle of the last decade, everything started to shift, and IT shops started wanting more integrated hardware-software stacks, and started asking why it was so difficult to make servers, storage, and networking work together.
Then, after a few years of poor performance, Dell figured out that it needed services and software business not just to complement its hardware, but to help customers consume it more efficiently.
"The conversations we have with customers have really changed," explained Dell, the company's CEO and chairman in the keynote opening up the PowerEdge 12G event. "It used to be about boxes."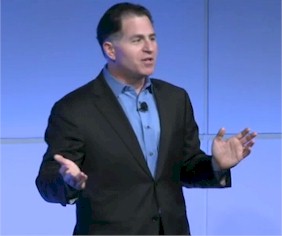 Dell founder and CEO Michael Dell
But now, said Dell, IT shops want to get systems in place fast to solve complex problems. This is why Dell has acquired 18 companies in the past three years, of course: to add expertise in areas where it would take Dell, the company, forever to build these capabilities from scratch. "It's not really a PC company, or even a PC and server company, but an end-to-end IT company that understands its customers," Dell said.
Sure, all CEOs are walking infomercials for their companies. But to be fair, have you built a $61.2bn company with $3.5bn in net income?
For Dell to get to the 3.0 stage, it is going to have to compete with HP, IBM, Cisco Systems, Oracle, and others (maybe even sometimes former storage good buddy EMC) that are fashioning their own integrated hardware/software stacks. That's why it has bought EqualLogic, Compellent, and Ocarina for storage, and Force10 Networks for networking, to weld to its PowerEdge servers. Dell understands – and its PowerEdge 12G launch today demonstrates – that it knows it needs to get its stacks in order.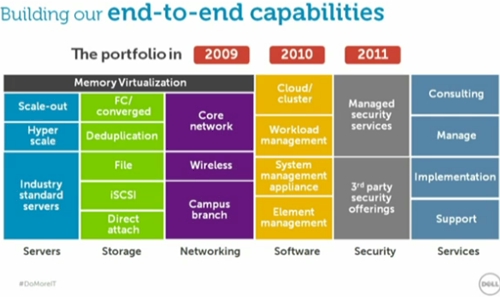 Dell wants to cover your IT assets, end to end
In addition to previewing the 12G servers, which El Reg detailed here, and putting out revamped EqualLogic arrays, which we told you about here, the company said it was ready to start pitching Force10 networking gear end-to-end, with 10GbE ports on servers, 10GbE switches in the top of racks, and 40GbE aggregation switches at the core.
While Cisco and Mellanox Technologies are touting 40GbE switching (and in the case of Mellanox, even 56GbE running over FDR InfiniBand, which revs to 56Gb/sec), Dell's general manager of server platforms Forrest Norrod said that – at least for workloads with heavy East-West traffic such as server virtualization and infrastructure clouds – there's no sense in going overkill so long as the switches had a non-blocking architecture.
"We think that right now, 10GbE is the right topology within the rack and 40GbE out to the core is the right choice, with speeds going up over time," said Norrod.
You might be thinking that now that Dell has Force10 switching gear, that it would be selling its own gear exclusively, cutting out Juniper Networks, Cisco, and Brocade Communications, among its other partners. Not so, according to Norrod. "We are not going to lock our customers in with a choice we make for them," he proclaimed.
We'll see how this pans out in the long run, but the idea at Dell is the same one that Oracle is pitching with its own "engineered systems" approach. The integrated stacks will work best and easiest if you pick the all-Dell solution, but the approach is open enough to slide in non-Dell switching or storage or management tools when customers choose to do so. This approach, explained Dell's vice president of enterprise strategy and marketing Praveen Asthana, is known as Virtual Network Architecture.
The hard bit of networking news – and it was a tiny bit indeed – relating to the Force10 acquisition was that since buying the switch maker six months ago, Dell is now selling the switches in 80 countries (up 40 per cent from before the deal) and has added nearly 600 customers.
Dell also said that it was working on a stack called the vStart Private Cloud, which will be available in the second quarter, which Norrod said would get customers rolling with private clouds quickly. "We need to arrive and be alive in five," was the manta for this product, according to Norrod, referring to a five hour time it would take to get the infrastructure cloud up and running.
It is not clear to El Reg how this vStart Private Cloud is different from the chunks of cloud Dell started peddling last April and most recently upgraded last month. Dell had been hinting to El Reg that it had stacks based on denser blade servers, Compellent disk arrays, and Force10 switches in the works; the current vStarts use PowerConnect switches, EqualLogic arrays, and rack servers.
Dell and Microsoft also confirmed at the launch event that they were working on something called the QuickStart Data Warehouse Appliance. This will be based on the new PowerEdge 12G servers and Microsoft's Windows Server 2008 R2 operating system and SQL Server 2012 database, and will leverage Dell's Boomi data integration service to link the appliance to production databases. This database appliance is in beta testing now and will be available in the second quarter.
While all of this sounds interesting, and Dell has even hired John Swainson, who used to run IBM's middleware business before taking over CA Technologies, to be president of its software business, the trouble is that Dell is still predominantly an iron reseller, even after buying Perot Systems and bolstering its services business.
Dell needs exactly what HP needs in terms of building up a software ecosystem, but it does not have the money necessary to do so because software companies are so expensive. Still, it would be great fun to watch Dell buy Red Hat and EnterpriseDB and built a true stack.
But that would mean alienating Microsoft, and neither Dell nor HP have the gumption or inclination to do that. ®