Boffins build blood-swimming medical microbot
Set for a Fantastic Voyage through your veins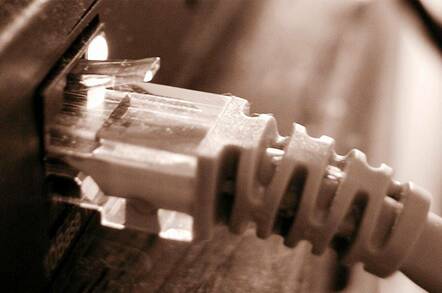 ISSCC A research team has developed a swimming microrobot designed to navigate through your bloodstream – all with your best interests at heart. Or at lung. Or at the far-flung islets of Langerhans.
This diagnostic and therapeutic innovation was announced at this week's International Solid-State Circuits Conference (ISSCC) by Stanford University assistant professor Ada Poon, principal investigator of the Poon Research Group at her institution's Integrated Biomedical Systems group.
The breakthrough at the heart of what her group's ISSCC paper defines as "fully autonomous implantable systems with locomotion" was how to wirelessly supply power to a tiny chip that can swim in your blood – or in any fluid, for that matter. Simply put, earlier assumptions about how electromagnetic power would traverse human tissue were wrong.
It had been assumed for years that the high-frequency waves required for antennas small enough to fit on an intraveneous voyager would be absorbed by muscles, guts, and other innards, but Poon's research discovered that not to be the case.
Discussing her work, Poon told a Stanford School of Engineering flack: "When we extended things to higher frequencies using a simple model of tissue we realized that the optimal frequency for wireless powering is actually around one gigahertz, about 100 times higher than previously thought."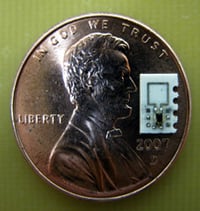 Odds are that a blood-bound
bot will have rounded edges
You can read more about her discovery in her paper, "Miniaturization of Implantable Wireless Power Receiver".
Further tests, design work, and collaboration with Stanford EE and CS professor Teresa Meng and two graduate students, Daniel Pivonka and Anatoly Yakovlev, resulted in the tiny swimming bot that Poon described at the ISSCC session "Diagnostic & Therapeutic Technologies for Health".
The li'l fellow, which was baked in 65nm CMOS, is capable of swimming at 0.53 centimeters per second. Its 2mm-by-2mm receiving antenna is fed by a 2-watt 1.86GHz carrier signal that induces 500μW of power into the device. The entire design includes an RF frontend, bandgap reference, regulator, demodulator, digital control, and configurable high-end drivers for the device's dual propulsion systems. No cupholders were detailed in the ISSCC paper.
Those dual propulsion systems propel and steer the device in two different ways. The smoother and more straightforward of the two is driving current directly through the fluid in which the device is swimming, creating a minuscule magnetohydrodynamic (MHD) drive.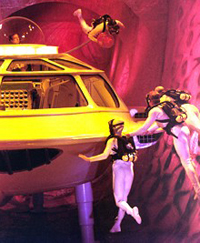 Ah, the 60s and their oh-so-electric colors
Alternatively, the bot can switch the power running through a wire back and forth, causing it to oscillate the device "similar to a fin on a fish", as described in the paper.
This prototype medical marvel, of course, brings to mind the 1966 sci-fi flick Fantastic Voyage, in which Raquel Welch, Donald Pleasence, and their fellow itsy-bitsy hemonauts have 60 minutes to remove a blood clot in the brain of a Famous Scientist™.
Needless to say, although Poon & Co.'s medical marvel may someday roam through your femoral vein snipping tiny chunks away from a dangerous blood clot, rest assured that Ms. Welch won't be aboard.
She – or her great-grandaughter – might someday bend over you, wirelessly directing the life-saving blood-bot, but as University of Chicago professor Michael LaBarbera pointed out in his stellar 2003 article entitled "The Biology of B-Movie Monsters", Brownian motion would cause individual molecules to knock the crap of hemonauts shrunk to submariner size. ®