Oracle: 'US Navy tricked by illegal Solaris touts'
Two channel firms sued in download and resell row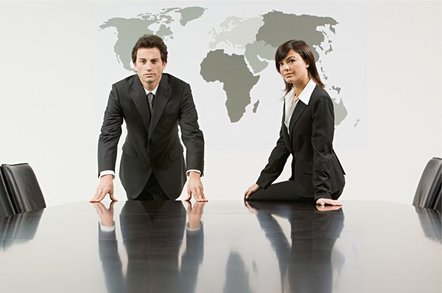 Oracle has launched legal action against channel firms in the US, accusing them of a "gray market conspiracy" to nick its software and flog Sun Solaris OS support.
The allegations were made against Georgia-based managed services provider ServiceKey and Delaware-based DLT Federal Business Systems Corporation in a lawsuit filed last week at the District Court for the Northern District of California.
The vendor claims the two businesses "conspired to steal and distribute copyrighted, proprietary Oracle software code, along with the login credentials necessary to download this code from Oracle's password protected websites".
It added that "under false pretences" the firms took "vast quantities" of software patches and updates for the proprietary Solaris OS, telling customers including the US Navy and the US Food and Drug Administration that they were authorised to sell Oracle's intellectual property.
Typically Oracle provides tech support services for software and firmware over the web, dishing out Customer Support Identification (CSI) numbers for the products included in a support contract so clients can create secure accounts to download updates.
These details are not to be shared with third parties, and customers that opt for a third party maintainer - anyone without a direct contract with the vendor - are not entitled to use patches, updates or fixes to provide support services for the software running the Oracle hardware.
"DLT-FBS and ServiceKey ignored these rules as part of a gray market conspiracy to sell support services on Oracle hardware to customers with no active support contract with Oracle," alleged the software giant.
ServiceKey purchased its own Oracle/Sun computers and tech support contracts from the vendor to cover them and was issued at least three CSI numbers.
DLT-FBS did not purport to be an Oracle customer but joined the Oracle Partner Network a year ago and as such was issued at least one CSI number and access credentials. Its place on the programme was revoked last November.
Oracle claimed ServiceKey - which acted as a broker of these services - appeared to buy support to get its hands on the login credentials to "resell to third parties", violating its agreement with the vendor.
It added that "many unauthorised entities" including DLT-FBS had accessed these details to gain support, and in one instance over 800 pieces of software were downloaded in one day, though the identity of these third parties is not yet known.
The vendor is seeking compensation and an order preventing the firms from continuing to "commit such acts".
This is not the first time Oracle's support contracts have been placed under the spotlight: last year dealer collective the Service Industry Association (SIA) accused Oracle of trying to kill off third-party maintainers by creating anti-competitive policies on hardware support.
It lodged complaints with the EU and the Attorney General's Office in 50 US states to overhaul the policies. ®