Toshiba Portégé Z830-10N 13.3in Ultrabook
Five and a half hours on the road
Endurance over performance
The Z830 is not a top performer in benchmarks with one exception: its battery life is exceptional, achieving five and a half hours of non-stop use between recharges. Indeed, tests with Futuremark's PowerMark battery test benchmark concurred with this, clocking up 334mins. Knowing that the computer is not likely to blank out any time soon is a liberating experience. I felt calm and confident while playing with this Ultrabook on battery power, rather than rushed and panicky.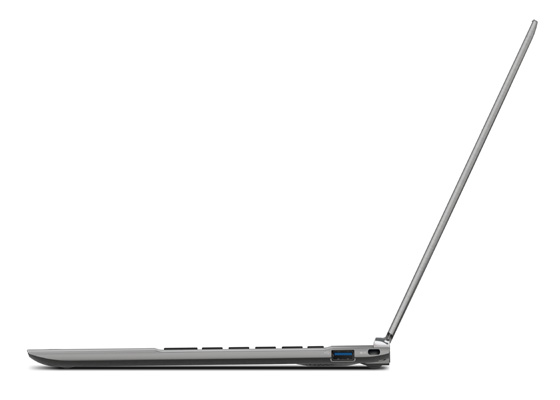 It might look boring but there's a lot of notebook gone into this Ultrabook
Toshiba has installed a number of custom software utilities to keep you up to date, notably App Place, Music Place and Video Place. These are effectively themed software stores. Personally, I am not happy about my computer thinking it's a shop and trying to sell me stuff.
Even this is less annoying than the constant bullying reminders from McAfee popping up at every opportunity. I don't know whether to report McAfee to the headmaster or get some mates together to kick the shit out of it. One way or another, this McAfee kid's up for a serious dabbing at morning break.
And for those who are interested in such things, 'Portégé' doesn't mean anything in French.
Verdict
Despite some annoyances, I really enjoyed my time testing the Toshiba Portégé Z830. It is a good all-rounder, but so very slim and light, and it runs on batteries for the best part of a day. Surely these three features alone deserve to make it a great success. It's not a style icon by any stretch of the imagination, but this Ultrabook looks businesslike in an understated way and genuinely feels like a quality piece of kit. It is jolly expensive, though. ®
More Notebook Reviews

Asus
Zenbook
UX21E
Samsung
Series 7
Chronos 700Z5A
Asus
Zenbook
UX31E
Dell
XPS
14z
Acer
Aspire S3
Ultrabook

Toshiba Portégé Z830-10N 13.3in Ultrabook
SSD-equipped Core i3 Ultrabook that delivers an all-day battery life, a respectable performance and has an excellent array of full-size ports.