Hitachi GST waggles nippy 2.5-incher at Ultrabooks
Size does matter with Travelstar's single-platter hardness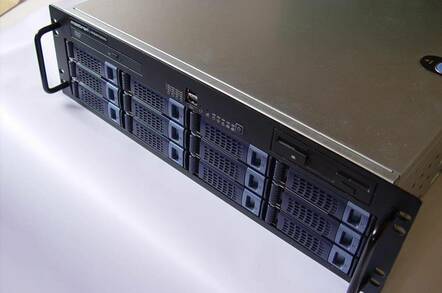 Remember Hitachi GST's 500GB single-platter Travelstar? Well, now it spins faster and jets out data quicker, possibly having been accelerated for the Ultrabook market.
In December 2010 the Z5K500 2.5-incher rotated at 5,400 RPM and had a measly 4MB cache and 3Gbit/s SATA interface. Behold the Z7K500 marvel: 7,200 RPM, 32MB cache and a 6Gbit/SATA interface. There are encryption and enhanced availability options; the drive uses Advanced Format with 4K blocks, and volume ships start next month.
Hitachi GST is tapping into Intel's Ultrabook specification, which combines a 7mm disk drive with a solid-state drive cache. The biz quotes Ryan Chien, research associate for memory and storage at IHS: "Shipments of cache SSD units in 2012 are projected to reach 25.7 million units – a 2,817 per cent increase compared to 2011 – and will reach approximately 121 million units by 2015. This growth is extremely significant for HDD manufacturers, as combining slim magnetic storage with caching SSDs gives customers high-speed access to massive amounts of storage at an affordable price."
The Z7K500 sounds good and, if things go according to plan, Seagate's Momentus hybrid drive - the one with flash inside the drive enclosure - won't get much of a look in.
What about pure 2.5-inch competition? Toshiba's 500GB MK5056GSY is a two-platter design, ditto Seagate's Momentus 7200, which stores up to 750GB. The single-platter Momentus Thin meets the 7mm z-height requirement but only goes up to 320GB, and has a 16MB cache and 3Gbit/s SATA interface. There is obviously going to be a 500GB/platter Momentus Thin; Seagate can't afford to be left behind, and we'd guess it will be announced later this year.
What could be juicier still would be a Momentus Thin XT, a 500GB single-platter disk with SSD cache inside it, plus 6Gbit/s SATA interface, saving Ultrabook OEMs money by not needing a separate flash cache. We'll have to see if Seagate will do it.
WD, in the midst of acquiring HGST, has a 7,200 RPM Scorpio Black with two platters and up to 750GB capacity. That is left behind by the new Travelstar which may become, in effect, the new Scorpio Black or Scorpio Thin.
It's all fun and games still in the hard drive industry with Ultrabooks and capacity needs driving development. ®