Brocade's profits collapse is over
But Klayko's crew has work to do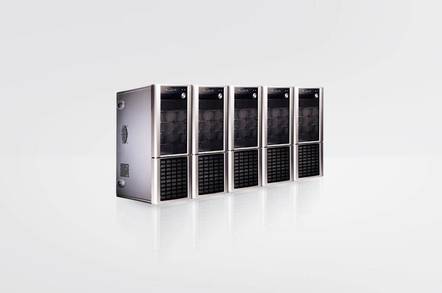 Fibre Channel networking giant Brocade has kissed its profits collapse goodbye with a roaring first fiscal 2012 quarter.
Revenues were $561m, up 2 per cent sequentially and 3 per cent annually – a bit weak in growth terms but a revenue record for Brocade. Profits were $59m, a huge boost on the previous quarter's $4m loss and more than double the year-ago quarter's $27m.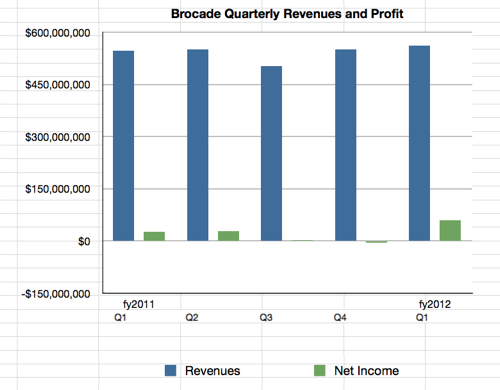 Brocade's quarterly revenue and profit numbers
Overall revenues have been flattish for the past five quarters, apart from a dip in the third fiscal 211 quarter, so where did the profit jump come from? Storage business revenue was $406.4m, the biggest revenue contributor, and it grew 12 per cent sequentially and 4 per cent year-on-year. Storage product revenue was where the big jump was: it grew 17 per cent sequentially and was helped by demand for 16Gbit/s Fibre Channel products.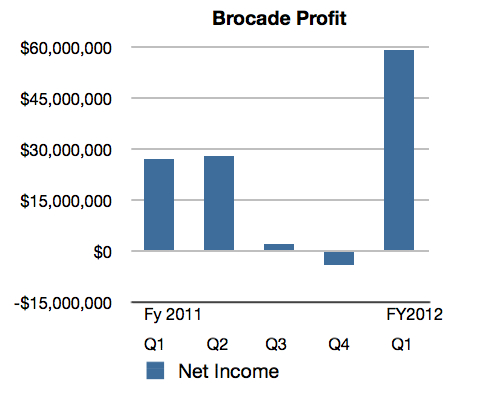 Recent Brocade profit history
The Ethernet business disappointed. Its revenues were $154.3m: 18 per cent down sequentially but representing a 1 per cent annual rise. Ethernet sales to service providers grew while sales to enterprises and the US federal sector declined.
CEO Michael Klayko said: "[There was] strength in both our Storage and Service Provider businesses. We look forward to delivering on our next wave of innovation focused on the Campus LAN market and to transition these customers to our new portfolio of solutions." Ah, we have Campus LAN announcements to look forward to and that should, hopefully, boost the Ethernet side of the business.
Brocade improved its gross and operating margins in the quarter, which helped the profit figure.
In the earnings call Klayko put the 16 gig Fibre Channel boot into Cisco, which has no 16Gbit/s product, by saying: "We also saw the fast ramp of our next-generation 16-gig Fibre Channel products continuing in Q1. In fact, 16-gig products accounted for 27 per cent of our total director sales in the quarter. There's no doubt that our decision to transition the SAN industry to 16 gig was well timed and is validated by strong customer demand."
Sales SVP Ian Whiting said: "I think there's just a general acceptance in the marketplace today that Fibre Channel is the technology for data centre and cloud deployments, driven by virtualisation." He didn't mention FCoE.
Brocade sees increasing sales of its VDX switches and VCS software, both of which are intended to scale over time. It hopes that this will build a steadily increasing Ethernet revenue stream as data networking customer demand continues to grow.
Enterprise Ethernet sales were weak, with Klayko identifying this along with Brocade's remedy: " We ... saw a decline in our Enterprise Ethernet revenue in the quarter as we transition to a whole new portfolio of products that are engineered to be the most innovative enterprise campus solutions that the industry has seen in more than a decade." He said the new product launch would take place on 6 March.
Bloomberg has reported that private equity firms trying to buy Brocade have given up because the firm's market worth is now too high for them to make money. Brocade is on its own and has to grow in the Ethernet business whilst preserving its Fibre Channel business for as long as possible. ®