Fujitsu flaunts Tegra 3 for future phones
High five core
Fujitsu aims to blow the roof off Mobile World Congress (MWC) next week when it formally launches its latest smartphone, which packs the five-core Nvidia Tegra 3 processor - the best a man can get.
The quin-blade razor five-core handset has yet to be officially named, but Fujitsu has followed competitors' suits and prematurely unveiled a host of specs ahead of the phone's debut.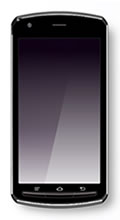 On top of the Tegra 3 chip, Fujitsu's mystery blower will run Android 4.0 Ice Cream Sandwich, feature a 4.6in display - resolution TBC - and pack a whopping 13.1Mp camera. A long battery life has been promised too, although details on just how long it'll let you talk to people are unknown.
The handset also notches security up a peg with a fingerprint sensor and battles the elements with water- and dust-resistant protection.
Further information is unavailable at the moment, but with MWC 2012 less than a week away, expect more on the matter soon. ®