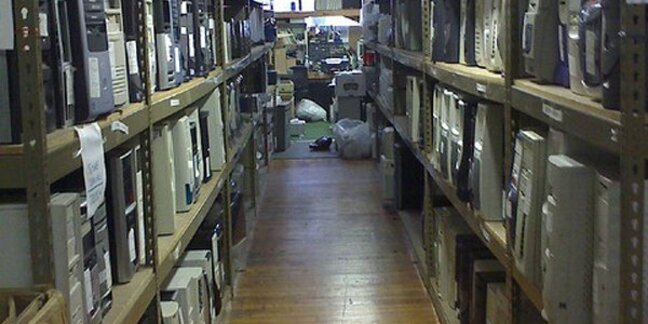 Despite growing sales in all six of its product categories and all four of its business units, and despite having an extra business week in the quarter, hardware supplier and software wannabe Dell was not able to pull the profits it expected down to the bottom line in its fourth quarter of fiscal 2012, which ended on February 3.
The company's revenues were just a smidgen over $16bn – if you consider $31m a smidgen – up 2.2 per cent from the year-ago period. Product sales were up 1.4 per cent to $12.93bn, while services revenues were up 5.6 per cent to $3.11bn.
Expenses were on the rise in the quarter across the board, but were particularly high in the research and development area, spiking 40 per cent to $236m. And that had the predictable and unfortunate effect on profits: net income in the quarter crunched down by 17.6 per cent to $764m.
In a conference call with Wall Street analysts after the markets closed on Tuesday, Dell CFO Brian Gladden said that the company had several issues it was juggling. First, for the past several quarters it has been trying to pare down around $3bn in revenues (on an annualized basis) from its software and peripherals business, which the company reckons is not profitable enough to be bothered chasing.
This pruning effort, which is largely done but still not finished, obviously affects the Dell top line. You would have thought it would have helped Dell's bottom line – that was the point, after all – but the flooding in Thailand conspired against the company as disk drives (particularly high-capacity and higher-margin drives) were in short supply, which put margin pressure on Dell's PC biz. Dell also wrote off $25m in its older-generation smartphones, and experienced a more aggressive pricing and competitive environment in the public sector. The disk issue and public sector issue together crunched about $100m in revenues.
If it had not been for that extra 14th week Dell had in fiscal 2012, which brought in around $480m (3 per cent of total sales, according to Gladden), the comparisons would have been worse than they were.
On a geographic basis, the Americas region was the issue, with sales down 3 per cent. Dell's Asia/Pacific sales rose 10 per cent, and sales in China were up 15 per cent. Sales in EMEA, which has no shortage of issues, were nonetheless up 8 per cent.
In the quarter, Dell's server and networking products accounted for $2.22bn in revenues, up 6.2 per cent. Server and networking gear sales across small and medium businesses rose 15 per cent in the quarter, and it is pretty clear that large enterprises are anticipating the launch this quarter of Intel's "Sandy Bridge-EP" Xeon E5 processors for two-socket servers.
Dell founder and CEO Michael Dell confirmed on the call that Dell would launch its next-generation PowerEdge 12G servers in the company's first quarter of fiscal 2013. And rather than seeing a slowdown in servers, Dell said that "we're seeing the replacement cycle accelerate a bit" just because of the massive performance gains in CPU, memory, and I/O bandwidth that are expected.
"We're super-excited about our 12G server launch," Dell said on the call, and predicted another "strong year" for its servers, storage, and networking division, without giving any specifics.
In fiscal Q4, Dell's storage revenues dropped to $500m (down 12.9 per cent). The problem here is that Dell is shifting away from rebadged EMC gear and towards its own EqualLogic and Compellent arrays, and this shift is taking time. Dell's own storage accounted for 93 per cent of storage revenues in the quarter, and Compellent arrays had a 60 per cent revenue spike sequentially. Sales of EMC-based arrays fell by 64 per cent in the quarter, and it will probably be the second half of fiscal 2013 before Dell is through selling EMC gear and in overall storage growth territory with all of its own disk, flash, and tape-storage products.
And brace yourself, for as Dell gets aggressive selling its PowerConnect and Force10 Networks switching gear, it will probably alienate its many switch partners and have to go through this dance all over again.
Dell's services business, dominated by the Perot systems integration and outsourcing biz and its own break-fix maintenance, posted sales of $2.18bn in Q4, up 12.1 per cent. Outsourcing revenues rose by 8 per cent to $718m, and Dell had an $8.5bn backlog for outsourcing as Q4 came to an end. Dell's transactional services revenues (maintenance and other support) came to $1.3bn in the quarter, up 14 per cent. Its consulting project revenues were up 17 per cent to $209m in the quarter.
Dell's mobile PC biz grew six-tenths of a percent, to $4.88bn, and its desktop PC biz actually grew by 3.2 per cent to just a hair under $3.7bn. The software and peripherals business, which is dominated by stuff sold to consumers, shrank by 3.5 per cent to $2.56bn.
Dell did not provide guidance on fiscal 2013 revenues and profits, and said that it expects a 7 per cent sequential revenue decline into the first quarter of 2013, with some of that being due to the extra week in Q4 and some being due to normal seasonaility.
For the full year, Dell had $62.1bn in sales, up 1 per cent, and brought $3.5bn to the bottom line, up 33 per cent. ®
Sponsored: Webcast: Ransomware has gone nuclear