Brazilians unveil Microsoft SkyDrive's secret – revealing pics
Cloudy storage app pictured... on the desktop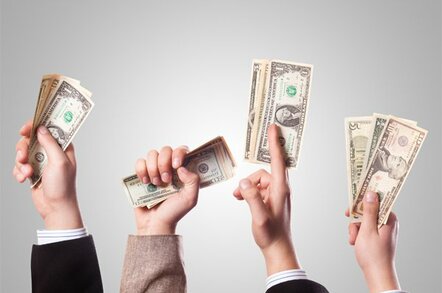 Brazilian website Gemind has revealed screenshots claimed to show a desktop version for MAC OS and Windows of Microsoft's SkyDrive.
Currently Windows and Mac users can access Skydrive – Microsoft's cloud storage for files, photos, music, etc – through a browser and it's clunky compared to, say, the simple Dropbox icon for access to all your Dropbox cloud stuff.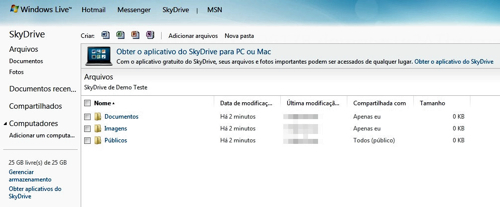 Microsoft SkyDrive desktop app
Gemind shows a screenshot (above), in Portuguese, of a SkyDrive client for a Windows or Mac desktop with a set of three folders in the pane. The site also showed screenshots showing pricing for extra SkyDrive storage.
SkyDrive offers 25GB of free storage whereas Dropbox offers less than a tenth of that at 2GB. You can upgrade to, say, Pro 590 and get 50GB for $99/year or $9.99/month. SkyDrive is much less than that, if the Gemind screenshot is to be believed, with SkyDrive +50 giving you an extra 50GB for $25/year. There are SkyDrive +20 and +100 plans as well.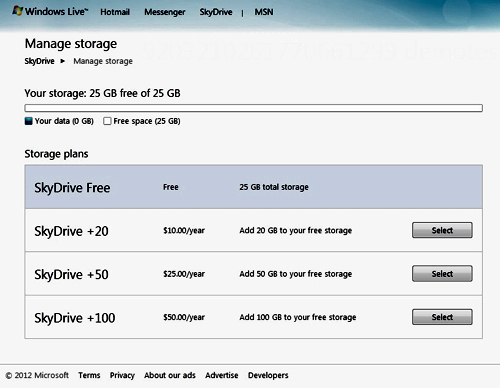 Additional SkyDrive capacity plans
Apple with its iCloud and Google with its Gdrive, will be hoping to get its hands on some of that cloudy cash too.
The consumer cloud storage consensus is that you should get consistent access to your cloud stored files – photos, music, videos, documents, spreadsheets, slide decks, etc – across your desktop and mobile smart devices. They should be as as accessible to apps on these devices as they would be if the files were stored locally on the device – which, with Dropbox, they are – and should be synced across all connected devices when a version is updated on one of the devices. Some slug of basic storage is free, initially anyway, with extra capacity available at a cost.
There is a distant risk appearing that your cloud storage will be linked to that supplier's content-playing apps and to that supplier's content displaying/processing devices, putting you inside an initially lovely walled garden as a a silken-bound captive. You would use iMac, iPad or iPhone to buy music and videos from iTunes, ditto iBooks, store them in iCloud, play/process iCloud data with Apple's apps, perhaps watch videos on iTV, and be content, locked-in fanbois and fangirlz ever after. Except for the consideration that other suppliers' content isn't available, either to buy or to play with.
Google has already started down this path, as has Microsoft and, in the far-off distance, perhaps so will Amazon and Facebook. Granting any supplier a monopoly over significant slugs of your digital data consumption, storage and processing is a risky proposition and open standards are the escape route.
We've all been there before and suppliers have supported open standards generally. Whether they'll continue to do so in the walled smartphone gardens that appear to be coming our way is another matter. ®
Sponsored: Webcast: Build the next generation of your business in the public cloud