Sepaton plans to crush mid-range boxes
'Kill the rabbit...'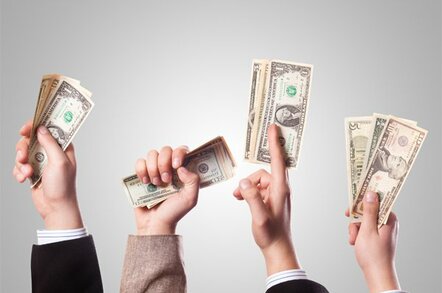 Sepaton, the large enterprise deduping storage vendor, reckons its big boxes can replace lots of those pesky, seemingly continuously accumulating Data Domain mid-range boxes with a single system that does the job properly.
There are a few stand-alone survivors from the deduplicating array start boom of 10 to 15 years ago. Exagrid is one, Permabit another, and Sepaton a third. The others have all been acquired and now virtually every storage array supplier or data protection vendor has a deduplication capability, meaning that the survivors won't get acquired. How can they survive and prosper in a maturing market where deduplication is no longer anything special?
What does Sepaton's future look like against this background? President and CEO Mike Thompson kindly answered some interview questions to give us an insight into that.
El Reg: What is the company's view of whether it will be profitable in 2012 and what that means?
Mike Thompson: We are focused on profitable, revenue growth in 2012. I expect the company to break even while growing our business at an acceptable rate. We have created a growing, sustainable business to position us for an IPO in the future.
El Reg: Will Sepaton need another infusion of funds to continue to develop its product line?
Mike Thompson: $82 million has been invested through six rounds. No additional funds are required for steady growth in the Data Protection market. We may consider raising additional capital for new strategic initiatives or more accelerated growth in the future.
Many of our customers and prospects refer to EMC/Data Domain as "rabbits".
El Reg: How will Sepaton grow its business in the face of a rampant Data Domain and an aggressive HP StoreOnce product line?
Mike Thompson: We are growing our business by being the only company with a laser sharp focus on the data protection needs of large enterprises. Data Domain develops products for companies in the mass market, which have different needs to the large enterprises we are selling to. Large enterprise requirements begin with a need for deterministic, high performance and grid scalability that Data Domain, HP StoreOnce and other competitors cannot approximate.
That's why many of our customers and prospects refer to EMC/Data Domain as "rabbits". Buy one and before you know it, you have to add a second, then a third, fourth, etc. Large enterprises also value certainty – like our 43.2TB ingest per hour, every time, guaranteed, with no guesswork.
Here is a real world example for you. We recently won a new large enterprise account that chose EMC for its primary storage yet placed a $2.5 million order with Sepaton for its data protection platform. As part of its final analysis, the business calculated that, based on its data growth over the next five years, it would have to manage 15 Data Domain systems versus just two Sepaton systems.
Other deciding factors for this enterprise included Sepaton's advanced management reporting, deterministic ingest, flexibility/agility via storage pools, and its ability to easily adapt to changes within their business environment – all things that large enterprises require. Sepaton was an easy decision for them.
We are speaking with other prospective customers, many of whom have more than 20 Data Domain boxes and will have more soon. This continuous rabbit-like data centre sprawl is great for Data Domain, but terrible for the customer. We see a significant market opportunity among enterprises who want to kill these rabbits.
El Reg: What is the product roadmap in 2012?
Mike Thompson: Sepaton continues to focus on the demands of the world's largest enterprises, notably in the areas of large database backup and recovery and high performance backup. We will further develop our architecture in ways that continue to focus on reducing the cost of ownership in large enterprises – particularly through reduced administration overheads.
During 2012, Sepaton will extend the depth and breadth of its offerings specifically designed for enterprise Big Backup, including broader OST/A.I.R. support, continued optimisations for very large mission critical database backup, deduplication, plus restore and replication in both VTL (Virtual Tape Library) and D2D (Disk to Disk) environments.
And we will remain ahead of our large enterprise performance requirements.
El Reg: What is its strategy for the cloud?
Mike Thompson: With Sepaton's introduction of storage pools in 2010, our S2100-ES2 became an attractive option for large organisations that require a cost-effective, easy-to-manage, multi-tenant data protection solution for internal private cloud deployments. Sepaton is deployed at several clients with this use case today and we will continue with this cloud strategy into the future.
El Reg: Would Sepaton agree it is competing in a mature or maturing market?
Mike Thompson: Data Protection remains a very good growth market. IDC predicts 16 per cent plus growth in data protection over the next five-plus years. The VTL portion of this market for SMB companies is declining. However, the market is expected to stay strong in large enterprises, where the number 1 challenge is managing massive data volumes and controlling the continued data growth tsunami. There is significant opportunity for VTL and D2D technologies that can deliver deterministic ingest and scalable high performance.
We expect continued growth in the large enterprise portion of this market for years to come.
El Reg: The cloud is a further opportunity to deploy its dedupe rabbit-killing large enterprise disk-based data protection arrays. The market may be maturing but it is growing at a double digit rate and Sepaton thinks it is the leading supplier to this market in product attractiveness terms. It's here for the long haul and aims to build a rabbit-proof fence around large enterprise data centres. ®
Sponsored: Minds Mastering Machines - Call for papers now open