Prada Phone by LG 3.0
Diallers are a girl's best friend?
Fashion sense
It's easy to use, though not perfect. The four shortcuts beneath the screen are, as is common, capacitive lights. So the menu, home, back and search buttons disappear when you're not using them. This adds to the phone's glamorously demure appearance but it does mean that if you need to use them, you have to be quick, as they blink out of existence quickly and are then utterly invisible in even the brightest light. I suggest you memorise where they are.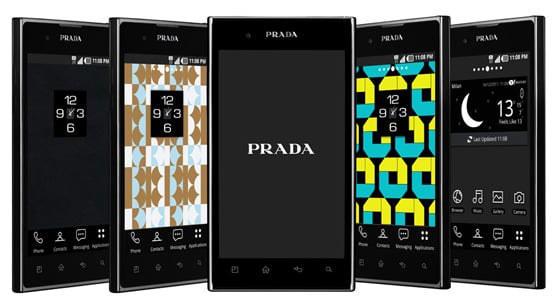 The Prada-LG collaboration has gone beyond fashion phone to feature phone
The phone has brains as well as beauty. There's a functional 8GB of storage on-board with microSD card expandability married to a respectable TI OMAP4430 1GHz dual-core processor with 1GB RAM that clocks up a AnTuTu benchmark score of 5529, pretty much identical to the LG Optimus 2X. Likewise, there's an 8Mp camera, including an LED flash. True, the screen resolution isn't a match for market leaders, but it's rich and (when it's allowed to be) colourful.
The camera is quick and responsive with plenty of shooting functions, including face tracking and continuous focus. There are only four scene modes (Auto, Portrait, Landscape and, er, Sunset) but the options are better laid out than on some cameraphones. As always with Android, there are easily accessible image resolution controls. The results are agreeable too, with captured images gleaming on the large glossy screen.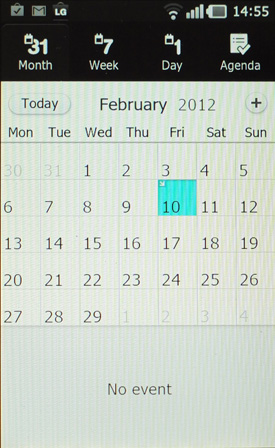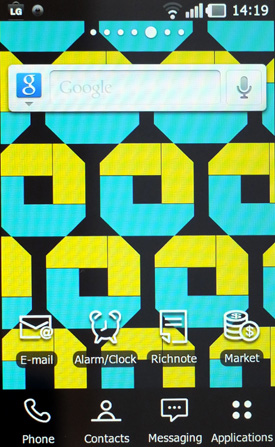 Calendar and coloured background option
Browsing was reasonably speedy though here the black and white screen furniture looked drab next to the page being surfed. Flash animation loaded fine and played back without problem. Video playback was unexceptional, with a slightly stuttery iPlayer stream quickly settled down and looked great, even sounding bearable through the phone's speaker. Better, obviously, through the headphones.
Call quality was above average, thanks to a second microphone that acted as a noise-canceller, so your caller can always hear you. There were no problems with dropped calls or iffy signal strength. Battery life was also a cut above, lasting well over a day, before it needed a top-up.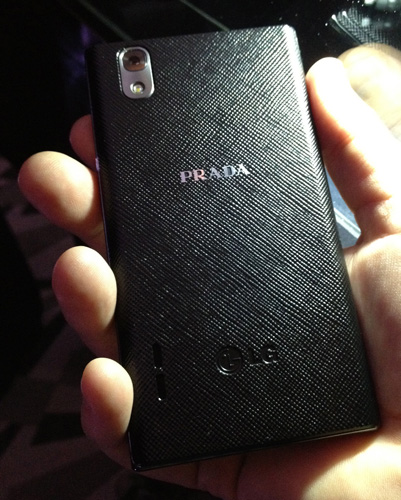 Prada's Saffiano pattern on the back gives a distinctive appearance to the handset
LG's first Prada collaboration was a handsome, innovative phone which as an early touchscreen with non-smart software was a nightmare when it came to texting, for instance. This third phone is sumptuously designed and makes the most of Android Gingerbread's capabilities, discreetly customised in looks. This isn't a cheap phone, so maybe you'd have expected Ice Cream Sandwich software. But that's not what this phone is about.
Still, LG has said that it will update the handset to ICS in the next couple of months. It takes time working all those black and white icons into Android, you know.
Verdict
Slim and subtle, the Prada phone by LG 3.0 is elegantly designed and quietly efficient. The black and white styling onscreen and off works tremendously, though you can dial up the colour if you want to. It's fast and effective, with a decent camera and good-looking display. It's certainly aimed beyond the fashionista know-alls but it won't be for everyone – the Prada logo attracts a price premium. ®
More Android Phone Reviews

HTC
Explorer
Motorola
Razr
Ten… Androids
to outshine
the iPhone 4S
Samsung
Galaxy
Nexus
Orange
San Francisco 2
Sponsored: Practical tips for Office 365 tenant-to-tenant migration

Prada Phone by LG 3.0
Stylish but smart Android handset subtly designed to appeal beyond the fashion show belt.