21st Century Sex: the shape of things to come
Are bits and bytes changing what we do with our bits and bobs?
Power up
Unnecessary lag may well be the least of your problems. As E-Stim's Wayne Allen explains, sex equipment needs power just like any other gadget. And, not surprisingly, many people feel a little uneasy when it comes to plugging toys into the mains, preferring battery power instead.
With many devices relying on motors or other mechanics to provide sensation, power is likely to remain a key issue to overcome, just as it is for other tech like mobile phones – you don't want your robo-partner suddenly grinding to a halt at an unexpected moment. A trailing mains cable snaking out from under the duvet isn't terribly erotic.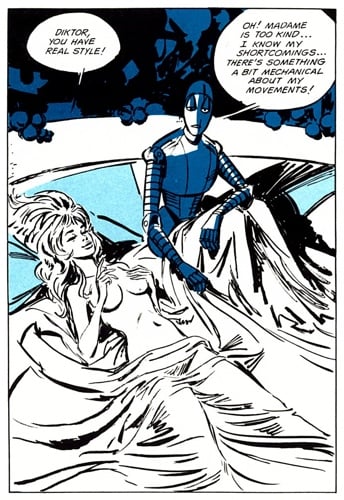 Your plastic pal: Jean-Claude Forest's original Barbarella enjoys robot relations
Barbarella™ © The Estate of Jean-Claude Forest
Robots as sexual partners? On the face of it, there's no reason a robot couldn't be equipped with various bits of sex tech. But don't hold your breath for an android lover. While a robot that can spoon feed a person has already been developed in Japan, such devices aren't cheap. To successfully replace a human sex partner, a robot's going to need a lot of sensors and processing power – just think of all the sensations and processing of feedback involved in real sex – to be able to be anywhere near proficient.
It will happen, but not for a long while yet.
But do we even want that? Culturally, while some have seen vibrators as a means of female emancipation, there's not really an equivalent for men. For many, physically interacting with a partner is an important part of their sexuality and masculinity. Culturally, male solo sex is still frowned upon.
Sharif Mowlabocus points out that much of the experimentation with new technology is about creating a tactile sense of someone else being there, which perhaps shows just how central that idea is to how we feel about sex. Is feeling good on our own enough, or are we ultimately seeking ways to feel good in relation to someone else?
Judgement day
Cultural taboos take a long time to change. Even now there are those who consider the contraceptive pill as an agent of promiscuity rather than liberation, or look on as Viagra as an enabler of dirty old men. So while technology makes it possible, for example, to virtualise taboo desires with no one being hurt, don't expect others - or the law - to suddenly find certain tastes acceptable.
Law makers have tended to the conservative where technology's concerned, with an assumption that seeing inevitably leads to doing underlying both the UK's extreme porn laws and the inclusion of 'pseudo photographs' in regulations regarding child pornography. As technology becomes more sophisticated, questions about sex will only become more tricky.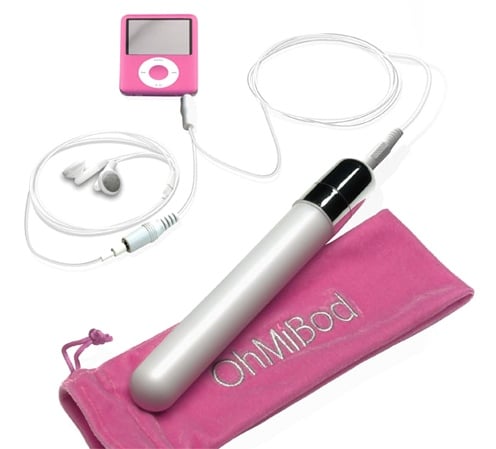 Picking up good vibrations: the Ohmibod music-powered vibrator
If you're having remote sex with someone, and go further than they want, is that assault? Does connecting imply consent? If someone else takes the controls without telling you, is that rape? Or is it something else? And if your partner won't do something that really turns you on, is it adultery if a machine does it for you instead?
Some of these issues aren't, of course, related just to sex. As telepresence, robotics and other smart technologies evolve, the law will inevitably have to address them sooner or later. Meanwhile, the choice is yours: jump in and experience bliss in novel ways, or sit back and marvel at the shape of things to come. ®