21st Century Sex: the shape of things to come
Are bits and bytes changing what we do with our bits and bobs?
Are friends electric?
Today you can buy vibrators that connect to a phone via Bluetooth and can be controlled remotely by text message, or react to the music playing on your iPod.
The thought of attaching electrical devices to yourself may conjure up images of shock therapy, but electro sex is big business for companies like Watford-based E-Stim systems, and in the hands of an expert can produce sensations that really do feel as if someone else is doing things to your body.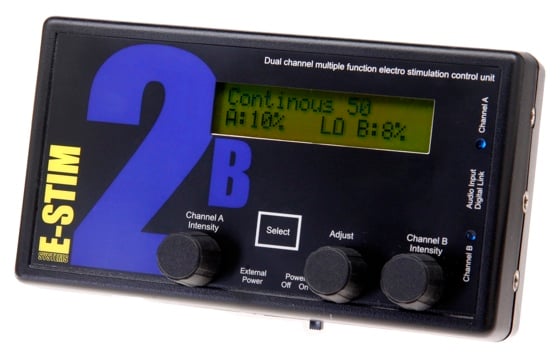 Remote electrical play: E-Stim Systems' Series 2B control unit
This sort of thing isn't just about having fun on your own, though. Gadgets like E-Stim's Series 2B can be connected to a PC, and so controlled remotely. The company's Wayne Allen explained that they've open sourced the serial control protocol, so users can write their own apps.
There's even a forum dedicated to remote control of electro devices, allowing a single "driver" to take charge of several other people in a group session. And by adding everyday technologies like webcams or Skype to the mix, the idea of a sexual experience with a partner who's a long, long way away starts to become more real than science fiction.
The real thing?
But is all this realistic? While you might have a lot of fun with remote controlled vibrators or electro boxes, they don't have much a personal connection. The term often bandied around for remote sex is 'teledildonics', and while it's still some way away from providing a complete body experience, it's closer than you think.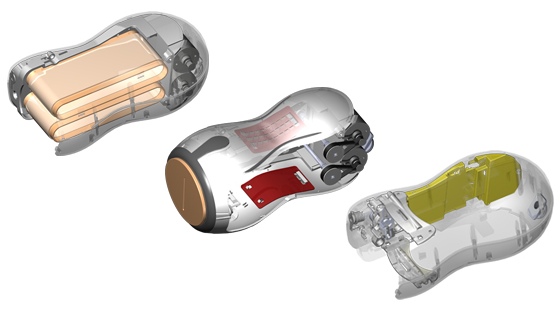 Computer controlled: the PC-connected Real Touch responds with internal motion, temperature and moisture
Remote kissing is an area that's been exercising inventors for some time. The Kissenger essentially transmits the pressure of your lips to a receiving device, and is just the latest attempt to let you lock lips remotely.
Moving south, the Mojowijo is available in both his and hers options. The 'his' is a robotic looking handle, while the 'hers' is a more conventional vibrator. Both devices attach to Nintendo's Wii remotes, and use the motion of one to control vibrations in the other, either locally or across the internet. And no, you don't have to buy a Wii to use it.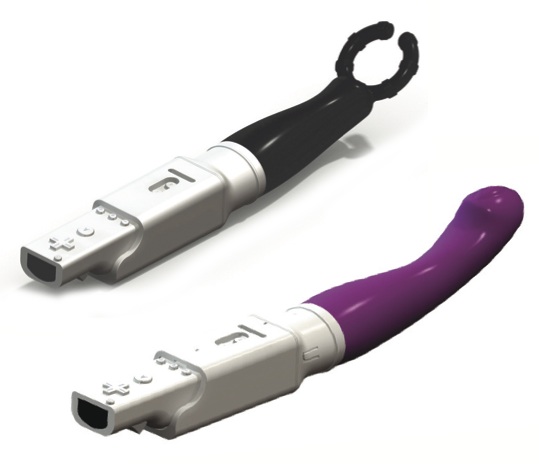 Wii play: Mojowijo remote stimulation toys for him and her
Similarly, the slightly terrifying looking Real Touch is, essentially, an electric version of the Fleshlight, complete with heaters, motors and lube dispensers that can be synchronised to videos on the company's website. Real Touch also made some headlines recently for suggesting that they provide a thousand "dildos for military wives", which would relay sensations to the counterpart parts of servicemen in Afghanistan.
Quite what the top brass would think of bandwidth being used for such purposes is anyone's guess - just remember to check your ping time before you start.