Ten... Valentine's Day gifts for him
Surprise, surprise!
Star Wars chop sabres

For those of you with other halves who obsess over all things Star Wars, these super-cool lightsabre chopsticks are a must-have. For a fan of the Force, what better to accompany a romantic dinner of stir fry, cooked in an eWok?
The Star Wars chop sabres come in various designs from blue Luke Skywalkers and red Darth Vaders to Count Dooku's bendy handled nosh-rods. They can be picked up for next to nothing too, so to spice things up further, how about a set of lightsabre candlestick holders as well? Hell, you could go all out and dress up as Princess Leia and, in need of service, send out that distress call: Help me, Obi-Wan Kenobi; you're my only hope...
May the forks be with you, or not, as the case may be here.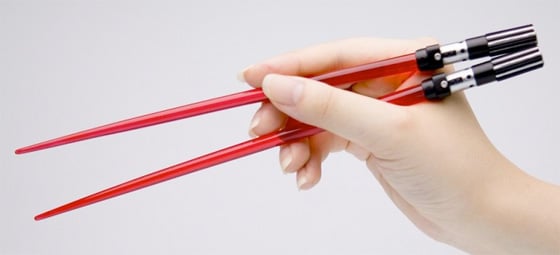 Price £9
More info Forbidden Planet
Zeal Optics GPS Goggles

Fancies himself as an explorer, does he? A thrill seeking extreme sports enthusiast, perhaps? Then investing in a pair of these high-tech goggles will leave him grinning like a Cheshire cat – they certainly had that effect on our wandering writer who looked at the older Transcend model in more detail, including the computer tracking, in our full review.
The latest Zeal Optics Z3 GPS goggles are rather pricey, but you certainly get your money's worth. They're apparently the world's first goggles to feature an LCD display too, built into the polarised photo-chromatic screen. This shows real-time stats, including time, speed, altitude, vertical distance travelled, temperature and location.
The best thing about it though is the information display appears to hang six-feet in front of a wearer's eyes, rather than having to squint into the corner of the specs. The USB compatible goggles, which last 7 hours on their rechargeable battery, also come with software for uploading your experience on t'interweb. ®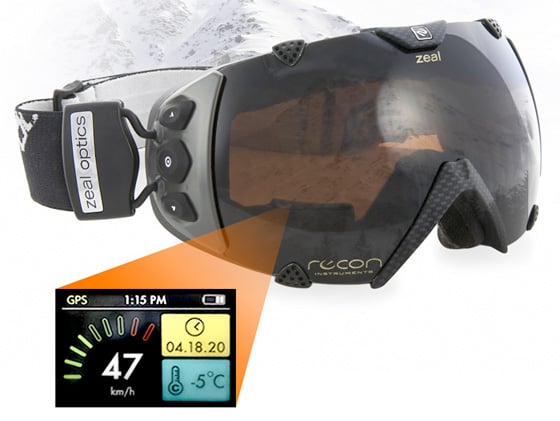 Price £450
More info Zeal Optics