Ten... Valentine's Day gifts for him
Surprise, surprise!
Laser Target Alarm Clock

It can be a struggle for us blokes to get out of bed in the mornings, so the right alarm clock is a necessity, especially for times when there's nobody around to give us a prod. The only problem is, a painful wakeup machine may get thrown across the room if placed too close to the bed, and yet putting it anywhere could mean its waking wails fall on the deaf ears. Choosr the Laser Target alarm clock though, things would undoubtedly be different. There's nothing like a spot of gunslinging in the morning.
To help make stirring from your slumbers a little more engaging, the kit features an infrared gun, used to shoot the target and put the alarm into sleep mode. It doubles up as a gimmicky shooting game too, with three separate modes, and owners can record their favourite songs or sounds to be used as the alarm itself.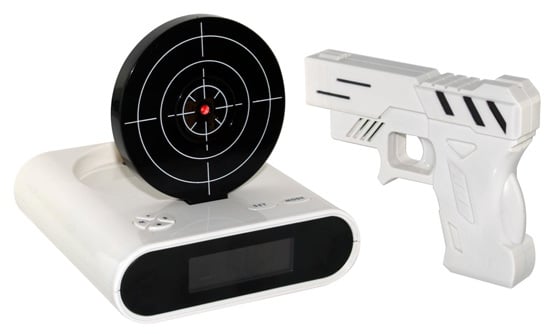 Price £14
More info Amazon
M:Tech iMusic Pillow

Wearing headphones in bed is hardly the most comfortable experience and having to reach towards a dock can be a stretch too far when drifting into the land of nod. M:Tech has an alternative though, this soft pillow features a built-in speaker and 3.5mm jack plug to connect it to your MP3 player. As the monitor is embedded into the pillow, your beloved will be able to listen to music while you hear nothing but the sound of silence, apparently.
The pillow is also a great tool for those with tinnitus, or insomniac sufferers who require a background noise in order to nod off. Regardless of how great the sound is, for the price, it's hardly a risky investment. Sleep on it.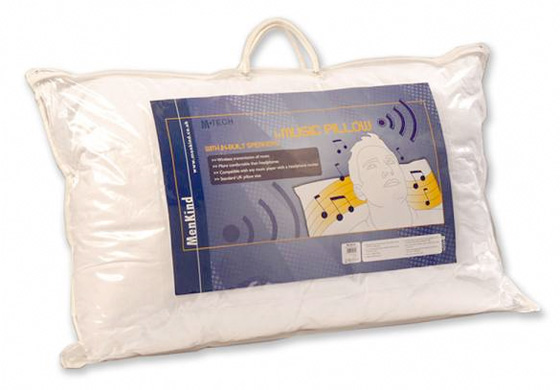 Price £15
More info MenKind