Apple tops Google in 'Reputation Quotient' survey
Tell Foxconn: Cupertino leads all US corps in 'Workplace Environment'
Apple may be facing brickbats for the working conditions at its Asian contract manufacturers, but a new survey puts Cook & Co. at the top of all US corporations in overall reputation, including perceived leadership in Workplace Environment.
According to Harris Interactive's Reputation Quotient (RQ) Survey – which polled over 17,000 "members of the US general public", as explained in the RQ's Executive Summary – Apple achieved the highest ranking in the study's 13-year history, knocking Google out of first place honors, which it held last year.
Not that the Mountain View Chocolate Factory should be worried – it remains a strong number two, with a score that the RQ summary presentation deems an "excellent position."
Apple was in the top five in all six "Reputation Dimensions" cited in the RQ, and was number one in four: Products & Services, Vision & Leadership, Financial Performance, and the aforementioned Workplace Environment. In addition, it placed right behind Whole Foods Market in its reputation for Social Responsibility.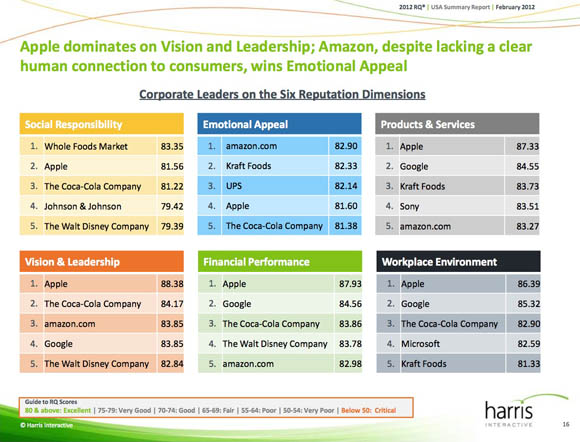 Kraft Foods' reputation seems to indicate that Americans are passionate about their Velveeta (click to enlarge)
Oddly enough, considering its reputation for spawning fervid fanbois, the Cupertinian consumer electronics giant slipped to fourth in Emotional Appeal, bested by Amazon, Kraft Foods, and UPS. We can only assume that those chocolaty shorts worn by UPS delivery men must stir the souls of US consumers.
Overall, technology companies dominated the top of the RQ rankings, with 76 per cent of respondents regarding them as having a positive reputation. The lowest-ranked corporate group was tobacco companies, with only 11 per cent ranking their reps as positive.
Those tobacco execs, however can console themselves with one other RQ stat: the US government was regarded as having a good reputation by only 10 per cent of respondents.
In charting Apple's rise to the top of the heap, the RQ contrasted its performance with another tech giant that's been on the reputational skids recently: HP, which sank to number 32 in this year's survey, down from 25 in 2011.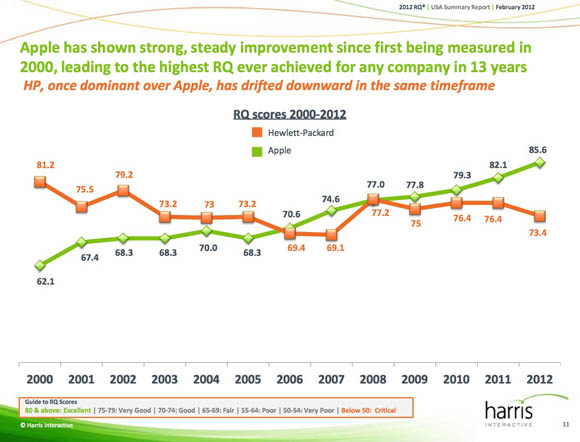 'The HP Way' is trending downward (click to enlarge)
In general, big business is not highly regarded by the "members of the US general public" that Harris Interactive surveyed. Only 2 per cent ranked the Current Reputation of Corporate America as very good – the same score as last year – and 15 per cent ranked it as very bad, a jump of 3 per cent since 2011.
In addition, 60 per cent said that corporate America's reputation had declined in the past year, with 29 per cent saying that it had "declined a lot".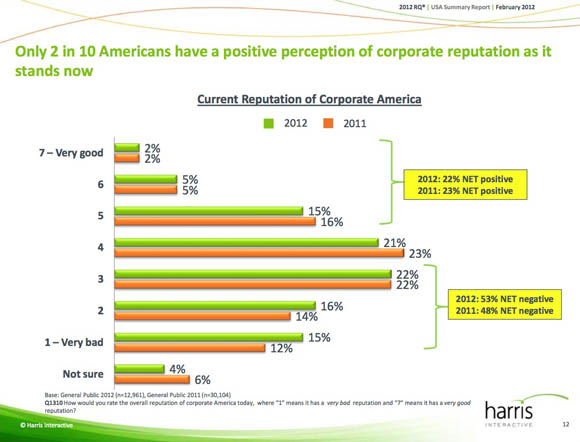 If you work in corporate image-making, Harris Interactive has some bad news for you (click to enlarge)
Of all market sectors, financial services dipped the most in this year's RQ, with Bank of America leading with way in sinkage, followed by Wells Fargo, Goldman Sachs, and JPMorgan Chase. Banking was specifically singled out, with 75 per cent of respondents saying that it was "part of the problem" facing the US economy.
That percentage was only second worst, however, among entities cited as harming the economy. The worst? You guessed correctly: government, with a 79 per cent downvote on helpfulness.
On the flip side, number-one Apple and number-two Google – along with the rest of the tech sector – had the best reputation for helping the economy, with a full 53 per cent citing them as "part of the solution".