Cisco stabilizes switching and routing in Q2
Raises dividend, remains cautious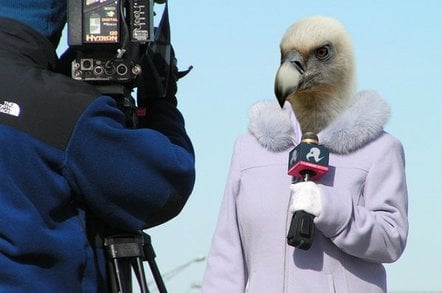 Networking - and some would say data center bellwether - Cisco Systems turned in a better-than-expected fiscal Q2 ended in January, with revenues up 10.8 per cent to $11.53bn and net income up a very good 43.5 per cent to $2.18bn.
"We are moving ahead of our competitors and our industry peers," proclaimed Cisco CEO John Chambers in a call with Wall Street analysts after the market closed. "We are in the sweet spot of where our customers are focusing on innovation," Chambers explained, adding that the company was "getting a higher share of IT spend than our competitors."
This is a remarkable turnaround from the Cisco of late 2010 and early 2011, which was unfocused, being picked apart by switching and routing competitors, and suffering from having alienated its big server partners by getting into the server racket itself with its Unified Computing System blade and rack servers.
Cisco restructured, got back to basics, refreshed its switching and routing products, and competed to win deals and cut costs. Chambers said on the call that Cisco's goal for its restructuring was to eliminate $1bn in expenses on an annualized basis, and that it had accomplished this a quarter ahead of schedule. This is one of the reasons why Cisco's profits rebounded so much in fiscal Q2 despite the fact that gross margins are down a bit, mostly thanks to very aggressive competition in Asia and product mix.
In Q2, Cisco's product sales were up 10.7 per cent, to $9.12bn, while its services revenues rose 11 per cent in tandem to $2.41bn. Switching products accounted for $3.61bn in sales, up 8 per cent, and Chambers said that gross margins were back to levels in the switching business that the company enjoyed two years ago.
Part of the problem is that the Nexus converged Ethernet switches, which carry both server and storage traffic, initially had much lower margins and much more functionality and higher port counts. Cisco had to sell a lot more Nexus gear to make the revenues, and the product was more expensive to make and therefore less profitable. But, Cisco has been working on that, and Chambers cheerfully said that the gross margins on Nexus gear were up 8 per cent in the quarter.
On the routing front, revenues rose by 8 per cent, to $2.08bn, with high-end routers growing 11 per cent and low-end and midrange routers rising only 6 per cent. Chambers said that Cisco continued to take market share in the routing space, and reminded everyone that "our major competitor" – that means you, Juniper Networks – just turned in a tough quarter where routing sales were down. Juniper did have a killer quarter in switching, but Chambers didn't mention that.
Cisco's data center business, which includes its UCS servers and a few other items, had $333m in revenues in the quarter, up 88 per cent, and Chambers said that the UCS products were up 91 per cent year-on-year and were clipping along at a $1bn annualized revenue run rate.
If you add in the Nexus 2000 and 5000 switches, which are often sold alongside UCS servers (and presumably networking other vendors' server iron), Chambers said this business more than doubled from a year ago and was running at a $2.5bn annual run rate. Cisco added 1,768 new UCS customers in the second fiscal quarter, bringing the total customer base up to unique 10,763 companies.
The company's collaboration products raked in $1.05bn in sales (up 10 per cent) and its service provider video products brought in $1.02bn (up 23 per cent). Wireless products accounted for $418m (up 25 per cent), while security products brought in $334m (up 24 per cent). Other products (including discontinued Flip phones and other things) made up the remaining $287m and plummeted 31 per cent.
Sales at Cisco were lumpy across the global regions and countries where it operates, as is the case with other IT suppliers these days. The Americas region had 5 per cent growth, and EMEA even turned in 7 per cent growth. Canada helped bring up the Americas average with a 29 per cent spike in Q2, and Japan did the same in Asia with a mimicking 29 per cent rise. The Asia/Pacific-Japan-China region had 14 per cent sales growth overall for the quarter, with China up 13 per cent and India, which is having economic issues at the moment, falling 13 per cent. Sales in the United Kingdom rose 13 per cent, while Germany had a 2 per cent decline and France had a 3 per cent decline year-on-year.
Across industry segments, the public sector continued to be a problem for Cisco as it has been for other IT players, with sales off 1 per cent. Cisco's service provider biz was up 12 per cent, and sales to large enterprises rose 7 per cent. Ditto for other commercial clients, who wrote checks worth 7 per cent more to Cisco in the quarter.
Cisco ended the quarter with $46.74bn in cash and equivalents and said about $5bn of that was in its US coffers with the rest of it overseas. Chambers said that he believes that the tax rate on repatriated money should be on the order of "zero to 2 per cent" and reckoned that however was President of the United States next would see the wisdom of this and let Cisco bring that $41.7bn in expat cash on home.
Cisco paid out $322m in dividends in the quarter, and today raised that dividend going forward by 33 per cent to 8 cents per share. At this rate, dividends will eat about $1.7bn in cash a year.
In terms of Cisco doing any big acquisitions with that cash, forget it. "You partner big to big, and you acquire big to small," Chambers admonished, adding that the company liked to acquire firms with around 100 engineers with good products that need a little extra oomph to get traction in the market and that flesh out the Cisco portfolio. Just like Oracle and IBM.
Looking ahead, Cisco said that it expects for revenues in the third fiscal quarter ending in April to rise somewhere between 5 and 7 per cent year-on-year, which is essentially flat sequentially. Cisco expects non-GAAP earnings per share to be between 45 and 47 cents. GAAP EPS will knock these numbers down by between 7 and 10 cents. ®