6,300 wannabe astronauts flood NASA inbox
Second-highest number of applications since 1978
NASA has received the second-highest number of astronaut applications ever for the 21st astronaut class when more than 6,300 people signed up to be space invaders.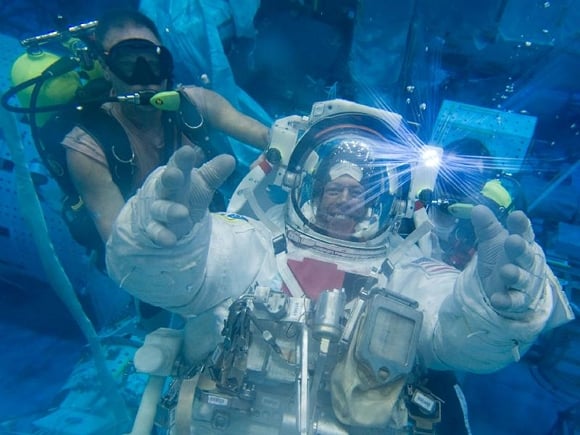 NASA astronaut Mike Fossum in spacewalk training. Credit: NASA
The US space agency usually receives around 2,500 to 3,500 applications when it announces astronaut vacancies - but between 15 November and 27 January, NASA fielded the most candidates since 1978, a year in which 8,000 people applied to boldly go.
The successful candidates will get two years of initial training, where they'll be taught a raft of astro-abilities including fiddling with space station systems, Russian and a few spacewalking skills.
However, the eager applicants are going to have some time to wait before they find out if they will be in the queue to blast off the planet, since the final candidates won't be chosen until the spring of 2013.
"We will be looking for people who really stand out," said Peggy Whitson, chief of the Astronaut Selection Board. "Our team not only will be looking at their academic background and professional accomplishments but also at other elements of their personality and character traits - what types of hobbies they have or unique life experiences. We want and need a mix of individuals and skills for this next phase of human exploration."
Whitson didn't mention – although it's implied by the long application process – that patience is going to be a large part of the astronaut game.
Even when the dollars were flowing, frequent trips past Earth's atmosphere weren't really a part of the NASA 'nauts life – it was more like every two or three years. Now that the agency has retired the space shuttles and the government is cutting funding left, right and centre, the current crop of candidates can expect to see space about once every 10 years when they head to the International Space Station.
However, NASA is ever hopeful that Space X and other commercial outfits will pick up the slack and get some regular blast-offs going.
"Our newest astronauts could launch aboard the first commercial rockets to the space station, the next generation of scientists and engineers who will help us reach higher and create an American economy that is built to last," said NASA administrator Charles Bolden. ®
Sponsored: Beyond the Data Frontier