Doctors sick of anonymous-coward NHS feedback commentards
Welcome to the internet, doc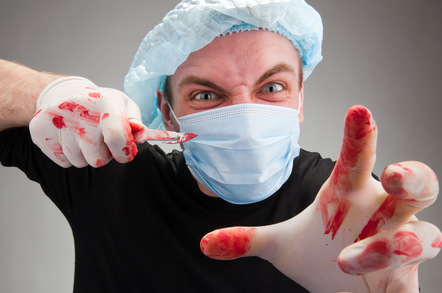 A leading GP has declared that the general public are too rude about doctors on the internet in a complaint that may amuse those of us more familiar with the culture of "Internet feedback".
In an interview with eHealthInsider, Dr Chaand Nagpaul, of the British Medical Association's GP Committee said that patient comments about NHS services on the NHS Choices website were often "malicious" or "fictitious".
Dr Nagpaul said: "In most cases the predominance of feedback is from patients with an issue they want to raise, or a complaint, which gives a very misleading impression."
He said that such comments "tar" the reputations of practices and don't represent the views of the average patient. Nagpaul added that anonymity allowed the commenters to say things that they wouldn't if they were named and also made it hard for doctors to determine the specifics of a case.
Nagpaul's complaints may not be surprising to anyone familiar with internet comment boards, but the issues surrounding internet comment culture are relatively new to the NHS - Choices launched in 2007 and became drastically more popular in 2011 notching up a 56% rise in visitors compared to the year before.
Trolling controversies have flared up around NHS Choices in recent months. The British Medical Association had to warn doctors to be nice in their comment responses in August, and according to a Guardian report one practice manager in Chelsea was sacked after falling for some Troll-bait and firing off this response to a moaning patient:
The concept of this forum is entirely flawed, as anybody can write anything with absolute impunity. I take all comments seriously, even though some of them are contemptible. Since you choose to hide behind the title of 'anonymous', I have little alternative than to dismiss your comments as unhelpful and unsubstantiated.
Practices are encouraged to respond constructively to comments.
According to eHealth stats, 68,000 comments have been posted on NHS Choices and about 12% of them were rejected for breaching their guidelines, which can include comments that contain abusive language or are disrespectful. However 3000 of the ones that were let through have been queried by medical practitioners. Nagpaul said that number was too high.
Comments are a core feature of the NHS Choices website. The comments widget on the homepage says: "If you recently visited a GP, dentist, hospital or any other NHS service, give your feedback". Readers can search by postcode to find reviews of GPs, hospitals and dental practices near them. ®