Shrunken Intel process boosts SSD performance
The new 520 Series more than doubles 510's IOPS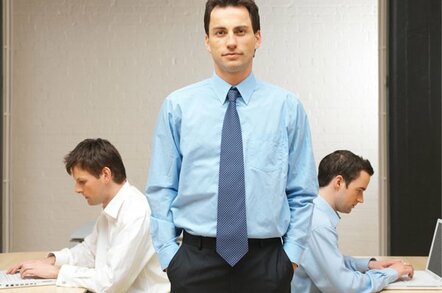 Intel has announced a boosted follow-on to its 510 SSD: the 520 Series, with more than double the IOPS performance and a top-end model with almost twice the capacity.
The 2.5-inch 520 is a client or PC SSD, and is built from 25nm 2-bit MLC NAND; the 510 used a 34nm process. Like the 510, it has a 6Gb/s SATA interface, but its capacity points are 60GB, 120GB, 180GB, 240GB, and 480GB, that last one being almost double the 250GB maximum of the 510. The 520 is 7mm thick up to 240GB capacity but needs 9.5mm to reach 480GB.
It uses an LSI SandForce flash controller with Intel firmware inside. Here's a photo of the rather undistinguished case that houses all the 520's SSD chippery: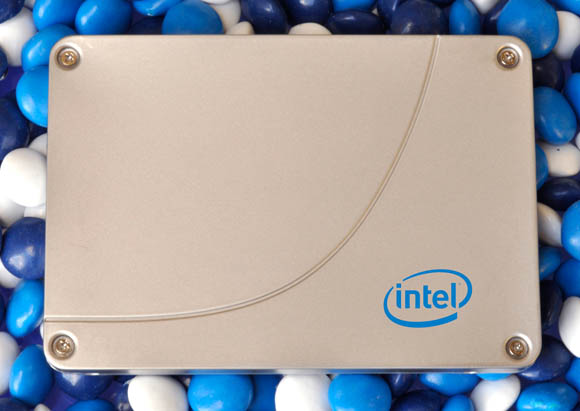 We were intrigued by the background and quickly recognised the blue disks as M&Ms – which, we understand, could give the device more backbone and perhaps a new marketing pitch: "The new Intel SSD 520, now enriched with the spine-healing goodness of blue M&Ms."
Back to reality... This new beast does up to 50,000 random 4K read IOPS (510: 20,000) and up to 42,000 random write IOPS (510: a pretty pathetic 8,000).
Intel is being naughty when it says the 520 can do up to 80,000 random-write IOPS: that level of performance is fresh out of the box and meaningless in real life. The 520 does up to 500MB/sec sequential reads and 520MB/sec sequential writes, near equal to the 510's 500MB/sec sequential reads, but leaving its older sibling some way behind with its 315MB/sec sequential writes.
Performance varies with capacity: the higher the capacity' the higher the performance. Typical latency is 80 microsecs for reads and 85 microsecs for writes. All-in-all it looks like a pretty good performance spec.
Plextor's M3, built with 24nm Toshiba MLC NAND, does 70,000 random-read IOPs and 65,000 random-write ones, 525MB/sec sequential reads but 445MB/sec sequential writes. Samsung's 2X-class MLC PM830 SSD has undeclared IOPS numbers, and its sequential performance is not as good as the 520.
The 520 has AES 256-bit encryption, and its MTBF figure is the same as the 510 at 1.2 million hours. The device comes with a 5-year warranty and it is priced as follows, based on 1,000-unit quantities: 60GB for $149, 120GB at $229, 180GB at $369, 240GB at $509 and 480GB at $999. ®