Android dominates first-time smartphone buyer biz
Apple strong in upgrade arena
Punters picking their first smartphone are more likely to select an Android handset. When they come to upgrade, however, there's a good chance they'll defect to the opposition.
So suggests market data from US research company NPD, released today.
NPD looked at sales data for Q4 2011, focusing not simply on the number of smartphone sold in toto but also those picked up by consumers upgrading from plain voice handsets and the like.
Of the first-time buyers, well over half - 57 per cent - said they had adopted an Android. Only 34 per cent were swayed by Apple's marketing, with nine per cent opting for a Windows Phone, BlackBerry - for both of whom the data is bad news - Bada or Symbian device.
Among all smartphone buyers, the 'others' category is, again, nine per cent of the total. But here Android's share has fallen to 48 per cent, while iOS' has risen to 43 per cent.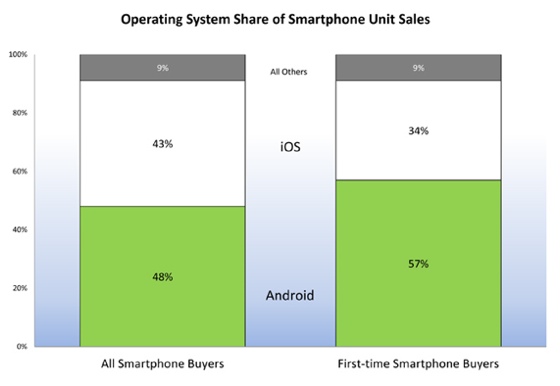 Source: NPD Smartphone Track
So clearly Android has taken a strong lead among consumers new to the category - Android phones tend to be cheaper than Apples, there's a good variety of handsets available, and word of mouth will be helping it along too. However, it's proving less successful at attracting existing smartphone owners.
Many among this group will be iPhone owners, who are likely to stick with the brand. The worry for Google and its partners is that punters try Android, find it wanting and look elsewhere when they upgrade.
How this situation goes from here on is anyone's guess. Android's evolution may ensure punters stick with it, and it will grow both its first-time buyer and existing smartphone owner market share at Apple's expense. But if Apple can keep ahead with innovative and/or gimmick features, it can ensure buyers will migrate to it. ®