Sony nosedives into $2.8bn loss as Hirai grabs controls
Full-year forecast torn up after cash-draining Q3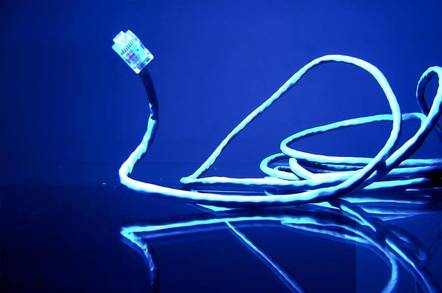 Sony's new CEO will have his hands full at the helm of the loss-making Japanese firm - the entertainment megacorp announced today that its net loss in the quarter ending in December was 159 billion yen ($2bn) and it has slashed its full-year forecast to a loss of 220 billion yen ($2.8bn).
Sony, which announced just yesterday that ex-PlayStation exec Kazuo Hirai will take over from Howard Stringer as president and CEO in April, had said in November last year it expected losses for the full-year ending in March to be 90 billion yen ($1.2bn).
The company said that it dropped billions of yen in the third quarter mostly because of the loss it made on selling its S-LCD shares and because of money it has set aside to cover issues at Sony Ericsson.
Sony and Samsung announced in December last year that Sony would sell its portion of the S-LCD panel-making joint venture to its South Korean rival partner, but since making tellies hasn't been too profitable of late, the shares were sold at a loss to Sony.
Over at Sony Ericsson, soon to be wholly owned by Sony, the Japanese firm has set aside 33 billion yen ($424m) in a valuation allowance on deferred tax assets. Which is corporate speak for this situation: if a company makes a loss, it won't have to pay so much tax on the next profit it makes, so it marks that extra money in its books as deferred tax assets. However, if the company then realises it's not going to make enough, or any, profits anytime soon, it won't be able to realise all of these tax benefits so it takes a valuation allowance off the deferred tax assets.
In this case, Sony is expecting a 50 per cent chance that the profits won't come rolling in at Sony Ericsson, since its valuation allowance is for half of the deferred tax assets.
Most Asian electronics firms are relying on their mobile and chip divisions to pull them through hard times in the TV sector and, for Japanese firms, the strong yen. But Sony is facing smartphone issues on top of its telly woes as strong competition from firms like Samsung and Apple have eaten into its share of the market.
Sony Ericsson lost €853m in the quarter ending in December, as its sales decreased by 15.7 per cent year-on-year.
"The sales were negatively impacted by weaker holiday sales in developed economies, and certain component shortages resulting from the floods [in Thailand]," Sony said in a canned statement.
The Japanese firm was also putting the floods on the list of reasons its consumer products and services sector, where PlayStations sit as well as TVs, saw its sales fall by 24.4 per cent.
"This was primarily due to a decrease in LCD television sales reflecting price declines, mainly resulting from deterioration in market conditions in Japan, Europe and North America, the impact from the floods, and unfavourable exchange rates," the firm said.
It added that in gaming it had "higher marketing costs to promote network service platforms and lower sales of PlayStation 3 hardware due to a strategic price reduction".
Neither Sony's Music business nor Sony Pictures were able to lift the company up too much. Pictures barely registered a profit for the quarter, with an operating income of just $9m, "reflecting the theatrical underperformance of Arthur Christmas".
Music was slightly better with operating income of $196m, but sales decreased 11.7 per cent year-on-year "due to fewer new significant releases in the current quarter compared to the same quarter of the previous fiscal year and the appreciation of the yen". ®