Snaps confirm new CPU for Apple iPad 3
But maybe not a quad-core chip, after all
Apple's iPad 3 will not have the same processor as its predecessor.
Snaps of Apple's iBoot bootloader programming tool in action covertly emailed to BGR reference the model code 'iPad3,1'.
They also refer to an ARM chip dubbed the S5L8945X. The iPad 2's Apple A5 chip was the S5L8940X, while the iPad's A4 processor was labelled the S5L8930X.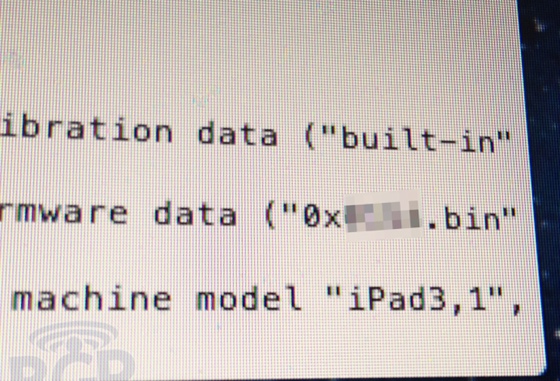 Source: BGR
That coding suggests the new CPU is an upgraded version of the A5 - 940X to 945X, not 940X to 950X - rather than a new generation of processor as far ahead of the A5 as that was above the A4.
There's nothing in the screen grabs to suggest it's a quad-core part, as many observers anticipate. It might simply be a higher-clocked dual-core A5. But Apple will probably call it the A6 not matter what.
The iPad 3 has been rumoured to be an LTE-capable device. It probably will be given how keen the US networks are on the mobile broadband technology, but there's nothing in the screenshots that we can see to confirm its inclusion. Most of the elements seen in the photos related to Flash chips, boot disk images and screen set-up. ®
Sponsored: What next after Netezza?