AMD uncloaks tablet processor plans
Sub 2-watt x86 chippery for Windows 8 fondleslabs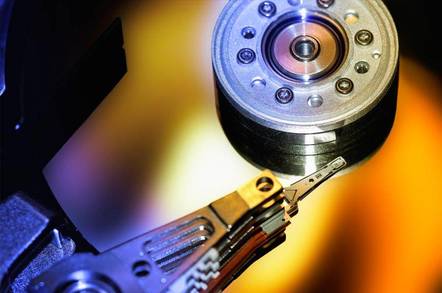 AMD has updated its product roadmap, announcing for the first time that it will be creating ultra-low power (ULP) processors for the tablet market.
"We want to hit the volume sweet spots of the industry," said AMD Global Business Units general manager Lisa Su, speaking at the company's Financial Analyst Day in Santa Clara, California, on Thursday. "That includes mainstream, entry – and, yes, that's going to include tablets in a big way, because that is where we believe there will be growth in the market."
To garner its share of that growing market, AMD is adding a new part, the 4.5-watt "Hondo" ULP accelerated processing unit (APU), that being the company's term for its heterogeneous-computing CPU/GPU/whatever mashups.
Hondo will slide in below AMD's "Brazos" low-power APU, and is due out later this year as a 40-nanometer part. "Hondo will be our first tablet-based system," Su said, "and we will see tablets with Windows 8 out there with AMD silicon."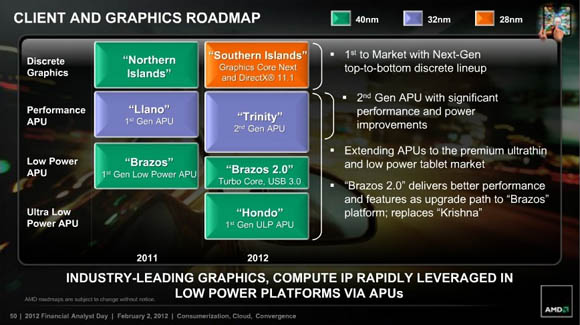 Introducing Hondo, AMD's ULP foot soldier in the tablet wars (click to enlarge)
Su also talked AMD's plans for 2013, which will build upon its 28-nanometer "Southern Islands" discrete-graphics "Graphics Core Next" architecture, exemplified in the Radeon HD 7970 released in December 2011, its "Trinity" 32-nanometer APU scheduled to appear later this year in a PC near you, and its Brazos 2.0 and now Hondo low-power and ULP parts.
AMD will refresh its entire lineup in 2013, all in 28-nanometer, joining the Southern Islands process. "We don't usually talk a lot about our graphics roadmap at these Analyst Days," she said, "but our Southern Islands family will be moved over into 'Sea Islands'. That will be a new graphics architecture that will increase performance and capability. Very, very importantly, it will also add new HSA – heterogeneous system architecture – features."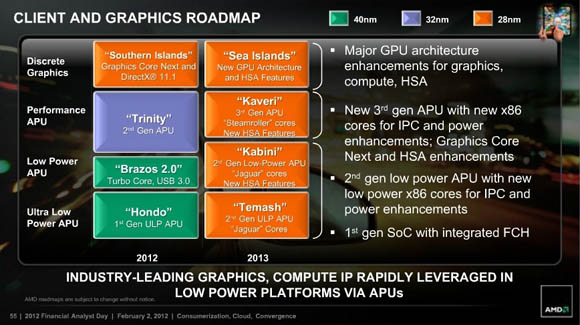 After Hondo comes Temash, and a full product-line move to 28nm (click to enlarge)
The Trinity line will be upgraded to "Kaveri", which Su described as "our third-generation APU," Llano being the first and Trinity the second, and which will provide what she described as "significant performance improvement" of up to one teraflop. Kaveri will have a new x86 core, "Steamroller", plus the new graphics and HSA features of Sea Islands technology.
"As we move into the low-power and the ultra-low-power lines," Su said, "here's where we really drive for more and more performance at lower power." Two new parts, "Kabini" for low-power and "Temash" for ULP, will be system-on-chip (SoC) parts, with the ULP target power requirement of under 2 watts.
"In Kabini and Temash," she said, "we'll have our first true system-on-chip implementations, integrating the southbridge – the Fusion controller – onto Kabini and Temash. That gives us power improvements, that gives us performance improvements, and that gives us real system bill-of-materials space and cost savings."
These two parts will be based on an upgrade of AMD's "Bobcat" core, dubbed "Jaguar", Su said. "It will also give us the ability to really scale these HSA features across our entire roadmap."
With Hondo in 2012 and Temash in 2013, AMD is betting big that the tablet market will expand beyond Apple's current market dominance, and that Intel won't dominate the Ultrabook™ market – that "™" being one reason that AMD calls its ultrabooks "ultrathins".
"From a growth standpoint," Su said, "it's clear that ultrathins and tablets will be two of the biggest growth vectors in the mobile space, and we are going to go after that with a vengeance."
To move into the ULP market, AMD is targeting x86 support at under two watts. "We can absolutely get x86 to less than 2 watts," Su promised. "So if you think about that, you can take the full Windows 8 capability into an x86 processor in a tablet system that lasts for over 30 days battery life. That is very much within the realm of our capability."
Su pointed out that AMD will have plenty of both possible customers and competition in the tablet market. "There are a lot of players who are out there talking about tablets," she said, "and frankly, the volume isn't so high – except for the first one."
And so AMD, along with its megacompetitor Intel, is crossing its fingers that Ballmer & Co. don't jump the shark with Windows 8.
But if that operating system should come a cropper, there's always Android on AMD. ®