Portland Jedi jailed for lightsabre rampage
Also banned from Toys R Us
The Portland man who defeated a police Taser with a Jedi lightsabre has been jailed for 45 days.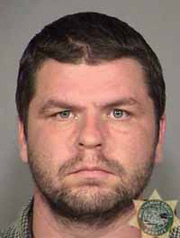 David A. Canterbury, pictured, was cuffed back in December after he went on the rampage at a Toys R Us outlet, assaulting customers with the Star Wars toy weapon before confronting cops outside the store.
Officers attempted to subdue Canterbury with a Taser, but he simply brushed one of the wires aside with his mighty weapon.
This may seem improbable, but the latest report from The Orgeonian indicates the parking-lot warrior was in fact packing two lightsabres, making him invincible to all threats save that of multiple cops wrestling him to the ground.
On Monday, Canterbury pleaded guilty in Multnomah County Circuit Court to fourth-degree assault and resisting arrest. Judge Kenneth Walker sentenced him to 45 days plus two years' probation - and ordered Canterbury to undergo a mental health evaluation.
The judge dismissed charges of "interfering with a police officer, theft and disorderly conduct", and also spared the perp "additional time for violating the terms of his probation for a previous heroin-possession conviction".
Canterbury is no longer welcome in Toys R Us stores, The Orgeonian notes. ®