System Shock
Sci-fi showdown
Services rendered
The rendering engine was based on Origin System's (now EA) Ultima 3D-Engine. In gameplay, this allows me to pick up items and to interact with the environment using a mouse pointer. I am pretty dexterous in my environment, being able to crawl, jump and even side step to get away from those necro beasties. This is next-level Doom but without the run and shoot sense of urgency, yet with a level of complication for those who want to work stuff out for themselves.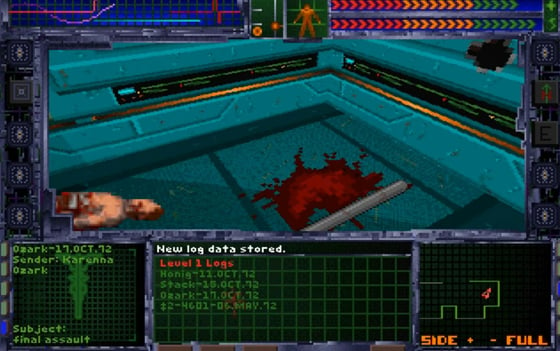 Log those details
Indeed, one of my main complaints about this game is the UI, which is extremely complex and essential to master in order to complete the game. Gameplay is also let down by the need to have an NVQ in touch typing to aim and reload.
My energy bar is hastily depleted by pickups such as shields, jet boots and also my hefty laser gun. I'm restricted to eight weapon slots – I'm a fan of the Machine Gun and crowbar – and each has different ammo types including hollow bullets and tranquilliser darts.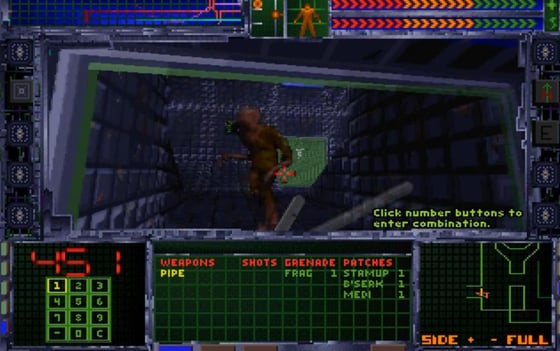 Choose your weapons
In combat, I need to be sure I am using the right ordnance against the right baddie to deal the most damage. Stim patches for such qualities as strength and sight keep me going, but at a cost. Nasty side effects can be reduced by a detox patch (well, it is January February).
The ten levels of System Shock are intricately connected to each other. I need things from one level to activate things in another. Also hacking into the coloured grid that is cyberspace, looking for key codes I need for a different level, is pretty to look at and certainly entertaining.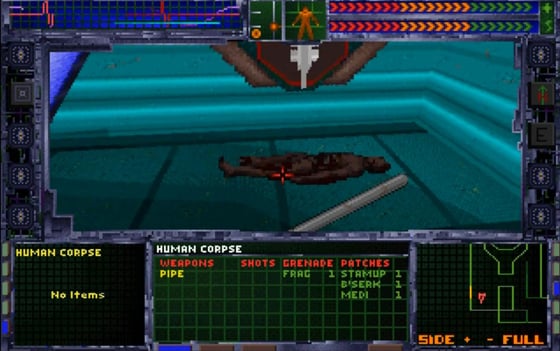 Dead space
One of the things I love about System Shock is the music, it is hilarious and totally contradictory to the menacing and gloomy game play atmosphere. Slaughtering cyborg zombies to rubbish early nineties techno always gives me a giggle. Skrillex, I see what you did there.
System Shock is the perfect combination of bash 'em up action and crafty puzzle solving. Clearly, the inspiration for generations of developers, System Shock 2 raised the bar in 1999 and I think it is impossible to calculate the influence the System Shock games have had, spanning several genres from Half Life to Resident Evil. ®
Antique Code Show is published every two weeks on Wednesdays
Developer Looking Glass Technologies
Publisher Origin Systems
Year of release 1994
Platforms PC DOS, Macintosh
More Retro Games

Dizzy: the Ultimate
Cartoon Adventure
Part Deux
Rainbow
Islands
Doom
Lemmings
Flashback:
The Quest for
Identity