Kindle Fire owners named keenest Android app users
Stats show tablet's usage storming ahead
Amazon's Kindle Fire has grabbed more than a third of the overall Android tablet usage activity in less than three months on sale.
So suggests Flurry, a maker of software usage analysis code built, the company claims, into "tens of thousands of Android apps, including many of the most popular" and able to give a statistically significant picture of the Android app biz as a whole.
Flurry's data suggests that in November 2011, the month the Kindle Fire shipped, the Amazon tablet accounted for around three per cent of app launches.
But by January 2012 the Kindle's share of Android app usage had rocketed to 35.7 per cent.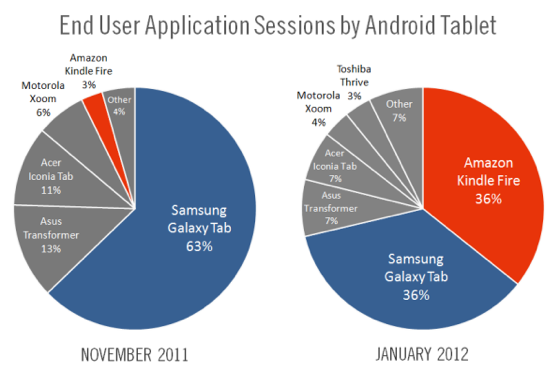 Source: Flurry
That puts it on an effectively equal footing with the Samsung Galaxy Tab family. The latter's January 2012 app activity share is 35.6 per cent.
Back in the previous November, Samsung had a commanding 63 per cent of app usage. But it's not the only one to lose share to Amazon: Asus' Eee Pad Transformer and Acer's Iconia Tab family all saw their shares squeezed after the Amazon advent.
The total number of Android tablet app usage sessions in January 2012 was more than three times the November 2011 figure. Even the Galaxy Tab, despite a declining share of app launches, still saw the total number of app launches rise 50 per cent between those two months.
Of course, app launches do not equate to tablet ownership, but the Flurry figures show that Kindle Fires acquired over the Christmas period are being used - and used as much as older tablets with bigger installed bases. The first Galaxy Tab, for instance, shipped a year ahead of the Kindle Fire and has a much larger installed base.
Flurry also found that Kindle Fire owners are happier to pay to download apps than Galaxy Tab owners. "We found that the Kindle Fire drove over 2.5 times more paid downloads to consumers than the Samsung Galaxy Tab," said Flurry blogger Peter Farago. ®