Eurocom Panther 2.0 Core i7, SLI notebook
Just what does a £5k laptop get you these days?
Walkabout workstation
There's no letup in the graphics department either. A few high-end gaming notebooks offer dual card solutions but Eurocom go one better by offering both SLI and Crossfire options for the Panther 2.0. The review sample came with both in the shape of a pair of AMD HD6990s (£306) in the bag and a pair of Nvidia GTX580Ms already installed. In keeping with the rest of the kit, numerous options of both single and dual card GPUs are available.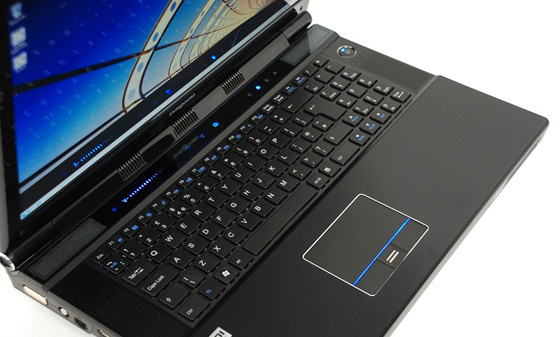 Packing 5.1 surround audio inside too
The standard full HD 17.3in panel thankfully isn't as glossy as some of the notebooks I've seen recently but, as you might have guessed, a matt option is available, as is the calibration service should you be using the system for professional graphics.
One advantage of the screen size is that it allows a full-size keyboard (in this case with a German Qwertz layout) to be installed complete with a separate number pad. The chiclet syle keys are well spaced but because of the depth of the wristpad, the Panther 2 isn't the most comfortable system to type on. Sitting between the two mouse buttons under the track pad is a finger print reader and the review system also came with a TPM module for extra security.
Benchmark Tests
PCMark 7 Results

Longer bars are better
3DMark 11 Results

Longer bars are better
Gaming Performance Results

Ratings in frames per second (fps)
Longer bars are better
As the Panther is really a mobile workstation, some muscle flexing seemed in order. It took 1m 43s to open a 3.3GB, 275dpi image in Photoshop. To re-render the image up to 600dpi took just 15 minutes, producing a 16GB file in the process. I then did a full resolution composite and save to the hard drive which took just over 17 minutes – impresseive. For a run-of-the-mill desktop PC, you could be looking at an hour or so for these sorts of rendering tasks.
With any notebook that's powered by a CPU with a TDP of 130W, unless you have power cells the size of your local electricity substation, battery life is going to be short and sweet. Indeed, the 78.44Wh unit in the Panther lasted for a mere 40 minutes while playing back a DVD and just over 30 minutes while in gaming mode. Futuremark's new notebook battery tester, PowerMark, delivered a benchmark score of 34mins in balanced mode. Yet in reality, battery life for this type of notebook is pretty meaningless, as it's going to spend nearly all its time plugged into the mains.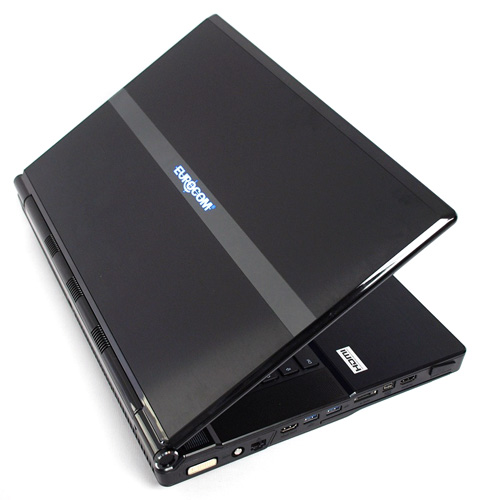 A lot of laptop, in more ways than one
The fun's not over yet, though. Withing the Panther 2.0 is sound system featuring five speakers including a sub woofer built into the base of the chassis. It's really rather good too – loud enough in volume although to my ears a tad on the bright side but the Realtek HD audio manager features a multitude of adjustments to suit personal tastes.
Verdict

Eurocom describes the Panther 2 as "the ultimate mobile workstation" and cetainly does well to live up to this claim given its blistering performance matched by an eye watering price tag. However, despite its mobile form factor, it's not really that portable, so it does beg the question: what's the point when a desktop alternative is cheaper? If it lives in a back of a truck performing 'special ops' then it kind of makes sense, but for the travelling techie, just be sure you sign up with a gym before taking a stroll with this Panther. ®
More Notebook Reviews

HP
Pavilion
dv6
Samsung
Series 9
900X3A
Asus
Zenbook
UX31E
Dell
XPS
14z
Acer
Aspire S3
Ultrabook
Sponsored: Detecting cyber attacks as a small to medium business

Eurocom Panther 2.0 Core i7, SLI notebook
High-end niche notebook with a desktop performance.