Eurocom Panther 2.0 Core i7, SLI notebook
Just what does a £5k laptop get you these days?
Five grand designs
With these specifications, it goes without saying that the performance is nothing short of mind blowing. Yet carrying a £5k price tag, you have every reason to think it should be so. Making comparisons to other laptops that Reg Hardware has reviewed doesn't really help either, as there is nothing that gets remotely close to the performance of this configuration of the Eurocom Panther 2.0.
Surprisingly quiet, all things considered
The other impressive thing about it is that it's relatively quiet, not silent by any means but it doesn't scream like a wailing banshee even when being pushed hard. When you consider what's under its skin, this is no mean feat.
It's not only immense in performance, it's pretty imposing in physical appearance too, measuring 419 x 286 x 67mm and although Eurocom thoughtfully provide a laptop bag to carry it around it does weigh an impressive 5.3kg without the equally massive 300W power adaptor. To avoid dislocating either or both shoulders, probably the best and safest option is to ditch the bag and invest in a good quality backpack, if you intend to travel with this monster.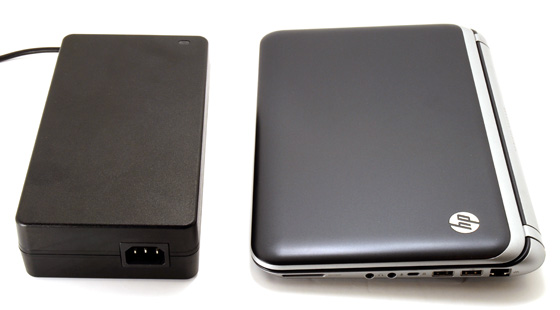 The monster 300W PSU is almost as big as a netbook
For storage there's not one but three 250GB Intel 510 SSD's built into a RAID 0 array and there is space in the huge chassis for a fourth drive, should the need arise. Once again, Eurocom offers a huge selection of drives to choose from – both mechanical and SSD that can be ordered preconfigured in various RAID arrays, if required. There's also a 6x Blu-Ray writer for back-up on-board too.
It goes without saying that the Panther 2.0 is rather quick, bearing in mind that although it has three SSD's in a RAID array, they aren't the fastest drives around. Booting into the desktop from the end of the BIOS loading took 17 seconds, which, for a desktop equivalent with plenty of bits and pieces to access, is certainly respectable. And to copy a 50GB folder of mixed files sizes and types, took just three and a half minutes.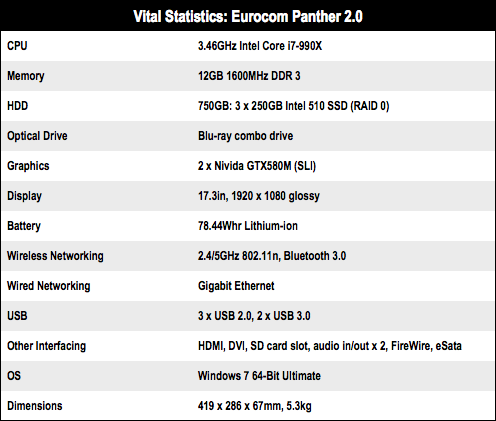 Sponsored: Detecting cyber attacks as a small to medium business