We're all familiar with the syndrome: someone forgets to fill in the price field in a database, and all of a sudden, an online store is offering products at zero dollars.
The usual outcome is that a few users – or a few dozen – make the purchase, then angrily demand that the site honour the purchases they made; the site will either do so and swallow the loss (if it's large enough), or not, and swallow the bad publicity.
Sydney online camera store Fotofriends has shown the good sense to have a default value in its database that can't get it in trouble, but it does come up with odd results, as you will see below.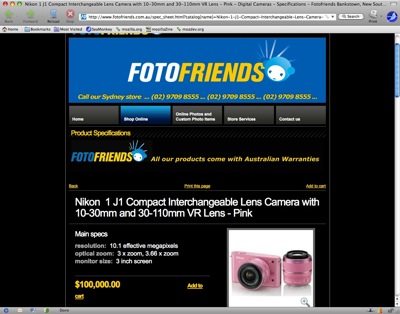 A hat-tip to the reader who tipped us off. ®
Sponsored: Webcast: Simplify data protection on AWS