Apple and Google ramp up proxy war
Motorola flings another 6 patent suits at the Fruity One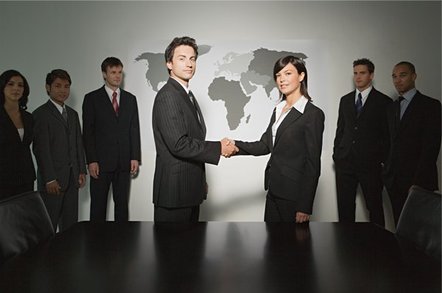 Apple and Google might not be facing each other across a courtroom, but they're fighting just the same, with the Chocolate Factory wielding Motorola against the fondleslab-maker.
Motorola has filed another half dozen patent infringements against Apple, this time in Florida (Texas is probably full). Apple's iCloud is accused of infringing two of them, while all six are applied to the iPhone 4s. But our old friend Florian Mueller has noticed that the acquisition agreement signed by Motorola and Google means this action could not have gone ahead without written permission from the Chocolate Factory.
During the Cold War, superpowers reluctant to pit themselves against each other would commonly back provincial wars in often-hard-to-pronounce countries. Here they could let off steam and generally give each other a bit of a shoeing without destroying the earth in the process. Those of us still alive appreciate the outlet such wars provided, but it was a bit tough on the people in those countries.
It's an easy comparison to see Apple and Google as doing much the same thing, though Apple is directly involved and Google is being drawn in no matter how it tries to distance itself.
But for this round it's Motorola that is demanding the usual ban on all iPhone sales, and immediate shutting down of the iCloud service, together with the normal hyperbole about commercial damages.
The objectives of each side in the bigger battle aren't entirely the same. Apple wants to see Android destroyed, or at least fatally wounded, while Google's side wants Apple to leave it alone and, perhaps, pay some royalties, but that's not the priority.
By acquiring Motorola's handset division, Google is drawing itself into the fight, making a final showdown between the two companies inevitable. ®