Tucci to hang around another year as EMC earnings soar
Record-breaking dosh, but info intelligence not so clever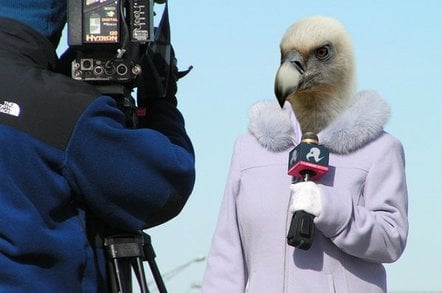 EMC recorded record revenues and profits for the full year and final quarter of 2011, although Information Intelligence results didn't look so clever.
The company sold a massive $20bn worth of products and services last year, an 18 per cent jump on 2010. It earned $2.5bn profit which, to put it in context, is a good deal more than the $1.5bn that QLogic is worth in 'market cap' terms. This profit is a 30 per cent increase on last year.
In the fourth 2011 quarter, EMC revenues were $5.6bn and its profits were $832m, which – taking out the VMware contribution – means they are up 14 per cent and 34 per cent respectively on the same quarter a year ago. EMC is growing profits faster than revenue. Product highlights included Symmetrix revenues – up 11 per cent on the year; mid-range storage products – up 24 per cent; and RSA security products – up 16 per cent.
Data Domain and Avamar achieved a $2bn a year run rate. Isilon revenues more than doubled and Greenplum did well also.
Get this: VCE revenues are past $800m a year and on track to surpassing a billion dollars a year. Merit badges all round then. Not quite. The poorly performing pit that is the Information Intelligence Group (IIG) stayed in the mire, in fact it dug itself a deeper hole as revenues were down both looking at the full year and the final quarter; 2011 revenues being $702m compared to $736m in 2010, and fourth quarter revenues being $201m and $204m respectively.
One reason to be cheerful: the services component of these revenues, as opposed to the product revenues, increased during 2011. Maybe the change to a service delivery rather than a product sale business model is beginning to come good.
It is too late for Mark Lewis, EMC's chief strategy officer who was running a ventures group out in Palo Alto for Pat "Gunslinger" Gelsinger, the chief operating officer for EMC's Information Infrastructure Products. It aimed to expand EMC's West Coast profile. But Lewis previously ran IIG, and IIG is the dog in EMC's manger of brands. According to SiliconAngle, Lewis has left EMC for an operating role, not a strategy role, at another company.
Some people suggest Lewis is an under-achiever, but that's harsh: Lewis was instrumental in getting EMC to buy VMware – the brilliant, diamond-class coup that will seal Tucci's legacy.
Revenues to die for
The IIG products such as Documentum, Captiva and so on are doing decently enough, pulling in $736m in 2010 and $702m last year. Other storage companies would die for such revenues but EMC's other product groups are performing so very, very well that revenues that would give Sepaton an orgasm appear paltry, at least as far as EMC is concerned. Outside EMC Lewis will be a hot property, as the man who saw the possibilities and persuaded Tucci to buy VMware. Yes, we'll have some of that vision, and thank you very much.
Storage suppliers as a whole misread content management products and no one is making a fortune from peddling them.
What is the outlook? EMC is looking to have revenues of $22bn in 2012 and hopes for $28bn in 2018.
The only hint of whisper of a possible problem, CEO Joe Tucci's succession, has been pushed back a year; EMC's board have invited him to stay on till 2013 instead of retiring this year as he had announced. The EMC CEO succession preparation machine is in full swing with two excellent internal candidates in the shape of the product gunslinger – Pat Gelsinger – and the money man – CFO David Goulden. They now have another year to duke it out.
On the competition front, NetApp, EMC's perennial chasing competitor, a sleek and capable retriever in comparison to EMC's pack of war dogs, is not gaining ground on EMC overall and, with Isilon on the prowl and VNX going strong, looks to be a contained threat.
An EMC insider said about VNX: "That product line is doing very well. There was a fear that the Dell divorce would have a chilling effect. Dell who?"
Dell has regrouped and rebuilt its storage product line but has yet to achieve full take-off. IBM's efforts are splintered across multiple products and revenues declined 1 per cent in its latest results, making it another contained threat. HP is another storage product line rebuilder yet to begin firing on all cylinders in its storage engine – another (self)-contained threat.
So all the mainstream storage competitive threats are weakened by events and EMC's environment looks rosy. It's positioned well for the cloud, has a leading role in the flash debate, is making big noises about big data, and the most successful CEO in its history is staying on another year. What's not to like? ®