Samsung NX200 20.3Mp APS-C compact system camera
A serious take
Optical profusion
I tested the camera with the 18-55mm f/3.5-5.6 OIS kit lens (27-82.5mm equivalent), a good and accurate zoom; the 60mm 1:1 f/2.4 OIS  (90mm equivalent), a fast and well-built Macro lens and the 16mm f/2.4 Pancake lens (24mm equivalent), a light, bright optic, particularly well-suited to low-light and shallow depth of field work but equally good for landscape and architecture shots.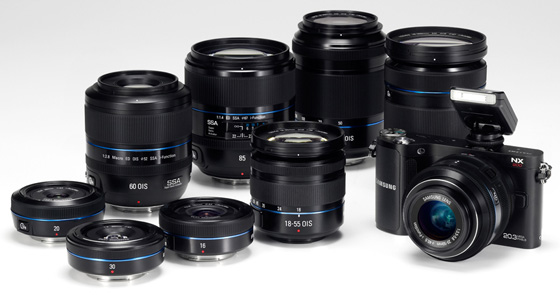 A good range of NX lenses is available with more promised
A major improvement over previous NX models and an easy selling point for this new release is the provision of a Full HD 1080p Video Mode. The video recording benefits from full manual controls, use of all creative modes and some extra features such as image stabilisation, fad-in/fade/out, self timer and additional voice clips. Footage is crisp and detailed but some blurring can occur with continuous focus, as well as the barrel movement being registered by the very sensitive mic.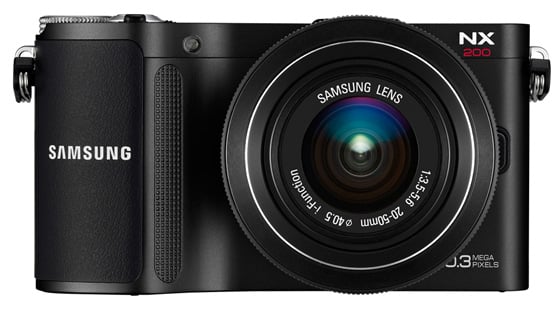 A major player in the making?
Verdict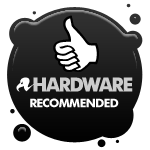 Overall, the NX200 is arguably the most accomplished and grown-up camera Samsung has produced to date. Its price is perfectly in line with the current crop of CSCs, such as the Sony NEX, Olympus PEN, Nikon 1 and Panasonic Lumix MFT alternatives, with the potential to eat into the DSLR entry-level market too.
Moreover, the NX200's performance and image quality equals and, at times, surpasses those of most of its rival CSCs and, crucially, Samsung has expanded its array of lenses to make the NX a truly versatile and complete system. To me, it looks like Samsung's photographic endeavours have finally come of age and it's ready to challenge the big names out there. ®
More Camera Reviews…

Fujifilm
Finepix X10
Sony
NEX-C3
Olympus
PEN Mini
E-PM1
Nikon
1 V1
Hasselblad
H4D-200MS
Sponsored: Detecting cyber attacks as a small to medium business

Samsung NX200 20.3Mp APS-C compact system camera
Compact system camera with a decent range of lenses and a 20.3Mp APS-C sensor.