Number cruncher charts rise of the personal computer...
...and its fall at the hands of smartphones, tablets
A map of the rise and rise of the personal computer over the past 30-odd years shows that the platform's popularity may have at long last peaked.
Blogger Horace Dediu has posted a fascinating graph charting the relative sales of key computing platforms over the past 36 years, from the early days of 8-bit micros to the present day.
The key conclusion: smartphones and tablets are well on their way to becoming the defining personal computing platforms - in terms of units shipped - for the early 21st Century.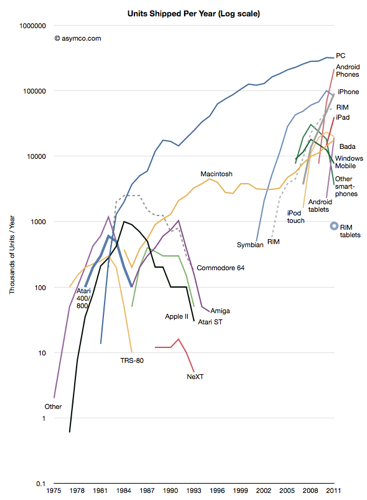 Source: Horace Dediu/Asymco
Dediu's chart, culled from historical sales figures, shows the rapid rise of all new computers. Whether you're looking at the Apple II, the Commodore 64, the Windows PC, the Macintosh, or Android smartphones, initial growth rates are staggering.
The 8-bit and, later, 16-bit micros like the Amiga and Atari ST saw shipments plunge almost as dramatically as they had risen when competing with the broad adoption of rival platforms, most notably the PC and the Mac.
The late 1980s and early 1990s cemented the preference for these two 'standards' over the variety of formats that had been on offer through the late 1970s to the mid-1980s.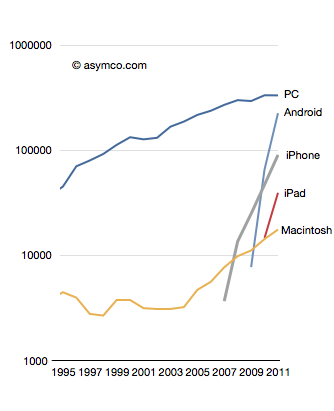 Source: Horace Dediu/Asymco
The question is, now that the likes of the iPad and smartphones based on Android and iOS are showing the same steep upward growth curve that past platforms did, will the still growing - so far - Mac and PC lines suddenly drop off in the way that those of the Amiga, Atari ST, Commodore 64 and Apple II did?
It's worth noting that the combined shipments of Android and iOS smartphones during 2011 is higher than the number of PCs shipped in the same period - though not if you add Mac shipments to the latter.
It's hard to see the Android and iOS total - which will be higher still if you include lesser smartphone platforms - not exceed PC and Mac shipments during 2012.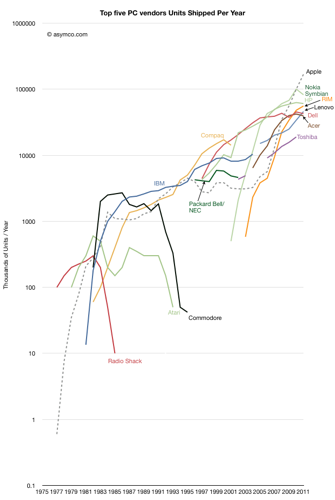 Source: Horace Dediu/Asymco
Certainly, the Windows PC has, on the basis of current data, plateau'd. Can Windows 8, due out later this year, change that? It doesn't seem likely.
Still unsure about tablets? As Dediu notes, "we cannot consider the iPad as a 'niche'. The absolute volume of units sold after less than two years is enough to place it within an order of magnitude of all PCs sold".
These and many more charts are on display at the Asymco website. ®
Sponsored: Detecting cyber attacks as a small to medium business