Apple iPhone 4S grabs back ground lost to Android
Lead narrows
Apple's decision to launch a tweaked iPhone 4 - the 4S - rather than a brand new iPhone 5 may have flabbergasted some pundits, but punters have taken to the phone and narrowed the gap between iOS and Android.
According to US market watcher Nielsen, during the three months of October, November and December 2011, Android's share of the smartphone OS market dropped from 61.6 per cent to 48.7 per cent and then to 46.9 per cent.
It's still ahead of iOS, but over the three-month period Nielsen's numbers relate to the gap narrowed to a couple of percentage points.
iOS' share of the US smartphone market rose from 25.1 per cent in October 2011 to 38.8 per cent and on to 44.5 per cent.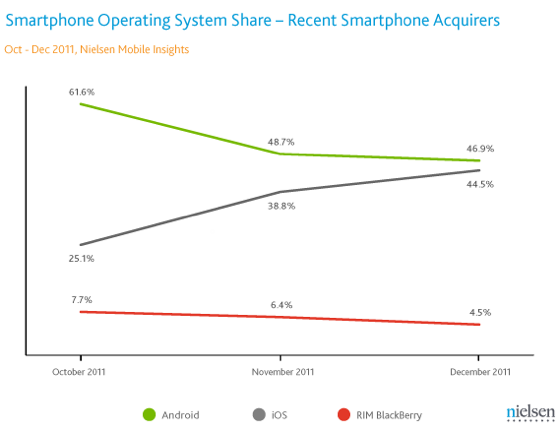 Source: Nielsen
The only other operating system to warrant tallying, RIM's BlackBerry OS, saw its share continue to wane during the final quarter of 2011, falling from 7.7 per cent to 4.5 per cent.
Alas for RIM, nothing on the immediate BlackBerry product roadmap - if an alleged leak is anything to go by - is going to reverse that downward slide in the near future.
Can the iPhone 4S continue to hold back Android's lead? Last week, research company ChangeWave noted that while there's usually a decline in iPhone demand over time after the peak of a major launch, this time round interest in the 4S has continued.
"Apple has never dominated smartphone planned buying to this extent more than two months after a major new release," ChangeWave noted. ®
Sponsored: From CDO to CEO