Tiny frog claimed as smallest vertebrate ever
Mine's smaller, yells irate ichthyologist*
Boffins have found what they believe to be the world's smallest vertebrate. The tiny amphibian was discovered when scientists grabbed some leaves from the forest floor in Papua New Guinea and shoved them in a plastic bag.
With an average body size of 7.7mm (0.27 inches), the translucent nano-frogs sit easily on a US dime (which has a diameter of nearly 18mm, making it similar in size to the UK five pence coin).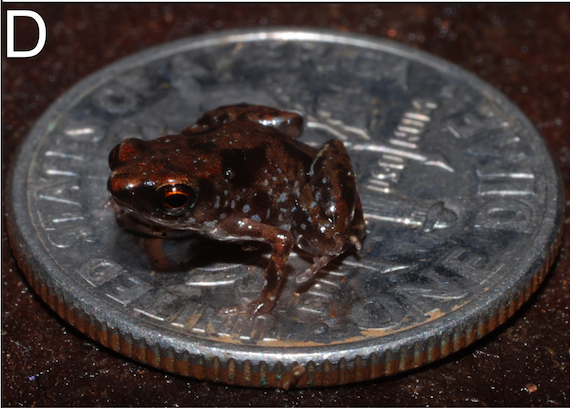 While researching frog cries in the rainforest, researchers Christopher Austin and Eric Rittmeyer identified the newcomer's tiny insect-like cries coming from the ground, and after trying to find the frog in the leaves, became frustrated and jammed the whole lot in a plastic bag:
"It was night, these things are incredibly small; so what we did after several frustrating attempts was to grab a whole handful of leaf litter and throw it inside a clear plastic bag. When we did so, we saw these incredibly tiny frogs hopping around," research leader Chris Austin from Louisiana State University told the BBC.
The discovery of the froglet, named Paedophryne amauensis brings the title of smallest vertebrate back to the frogs. It had previously been held by an Indonesian swamp-dwelling fish, the Paedocypris progenetica, measuring 7.9 to 10.3mm in length.
The researching scientists say that the breadth and limits on vertebrate size have been of great interest to biologists due to the functional and physiological constraints associated with extreme body size Adaptions that make this frog work biomechanically at its tiny size include the shortening of its fingers and toes to "vestigial nubs" and the simplification of its skull.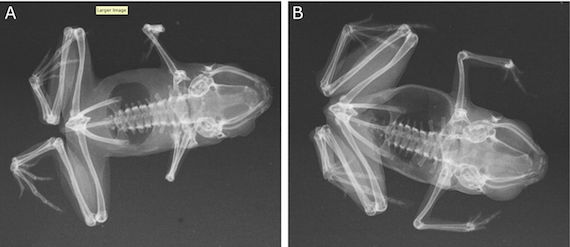 Tiny frogs are particularly susceptible to drying out, because of their high surface area to volume ratio, so scientists believe they can only survive in wet forest litter in tropical zones. Where normal frogs eat normal insects, tiny frogs eat tiny insects. ®
* An ichthyologist has disputed that the frog is genuinely the smallest vertebrate, telling the Associated Press that the males of a species of deep-sea anglerfish should take the tiny crown. The males of this species are a tiny 5mm, but the fact that they don't have stomachs and live as parasites on the backs of 50mm females has led some scientists to discount their existence as separate creatures.
Ecological Guild Evolution and the Discovery of the World's Smallest Vertebrate, co-authored by Eric N Rittmeyer, Allen Allison, Michael C Gründler, Derrick K Thompson, Christopher C Austin, was published on 11 January, 2012 in PloSONE
Sponsored: Practical tips for Office 365 tenant-to-tenant migration