X-Dream Rocker wireless gaming chair
Are you sitting comfortably?
In the hot seat
The illuminated volume dial and bass and vibration controls fall readily to hand. If you don't require a wireless connection, there are two pairs of stereo phono inputs available, plus a 3.5mm mini-jack. There's no digital audio input, so no interpretation of multichannel surround.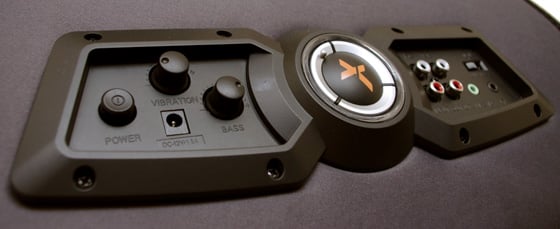 Seat controls
Unsurprisingly, the seat's audio system isn't particularly powerful but then it doesn't need to be, given the close proximity of lugholes to speakers. While its makers decline to quote a power output, you'll not feel a need to max out the volume.
Two drivers, positioned each side of the headrest, deliver well separated stereo, while a ported subwoofer built into the back of the chair fills in some of the missing mid-range. It's not Hi-Fi but it does make an effective noise. Although envisaged for game soundtracks, I also used it for music playback and wasn't unduly offended.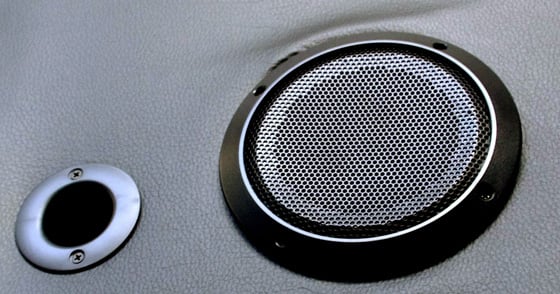 A sub in the back
Allied to all this is a built-in vibrator able to send shudders through your lower back. Part rumble-pack, part electronic masseuse, it's the addition of this visceral body popper that makes the gaming chair experience rather different to just reclining on a sofa with a pair of headphones.
As a soundtrack supplement, the chair's vibration effect is variable and not particularly coherent, but I found myself warming to its unpredictable pummelling. It recalls a similar effect introduced theatrically back in the early Seventies. The Charlton Heston movie Earthquake used a system called Sensurround to achieve much the same result.
Verdict
Overall then, the X-Dream Rocker can be considered quite a fun indulgence, but do try it out for comfort (if you can) before buying. ®
More AV Gear Reviews

Marmitek
Gigaview GV820
wireless HDMI kit
Sony
HMZ-T1
3D headset
Toshiba
Qosmio X770
3D gaming laptop
Viewsonic
PLED W500
portable projector
Sony
BDP-SX1
portable Blu-ray player

X-Dream Rocker wireless gaming chair
Wireless audio gaming chair