HD JuiceBox HDMI over Powerline kit
High voltage hi-def
Up to spec?
According to the spec supplied with system, resolutions up to 1080p are supported, however I failed to get beyond 1080i. The units would just throw out an 'unsupported format' warning. Clearly, if you're routing from a set top box this is not an issue, however full throttle Blu-ray could prove problematic.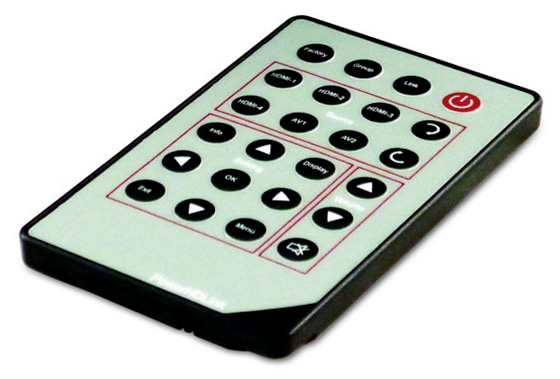 The credit card remote navigates the various function
The system uses H.264 encoding and this does a remarkably good job. The process is not transparent and I did detect some picture instability from the receiver's output when comparing test charts to source. Yet, for the most part video survives its perilous plug-to-plug journey unscathed. If you're streaming SD or network content, you'll not spot much difference when you compare input with output.
The system does not support multichannel sound though. There's no provision for digital audio and it doesn't recognise multichannel PCM delivered by HDMI. Not that I'd recommend the HD JuiceBox for audiophile use; the receiver outputs a very harsh-sounding stereo PCM signal.

Pricey, but effective
The HD JuiceBox incorporates a 200Mbps Ethernet bridge, allowing you to use the system for data as well as video. The system balances the requirements for any streaming video with your data traffic, nabbing bandwidth as required. Consequently, if you route hi-def around the mains you'll lose more capacity than if you're distributing low-bitrate SD.
Oh, and a word to the wise, don't try and mix and match Powerline and HomePlug devices; the HD JuiceBox will not play ball with rival products and bandwidth is likely to suffer.
It's also worth noting that the signal from transmitter to receiver can't get past a fuse box. For most households, that won't present a problem, however those that have a secondary fuse box perhaps following an extension should be aware. Similarly, it'll fail when it encounters a mains conditioner/surge protection device.
Verdict
Overall, the HD JuiceBox is an interesting – albeit specialised and pricey – alternative for HDMI distribution. Indeed, when all else fails, it could be a system-saver.
 ®
More AV Gear Reviews

Sony
HMZ-T1
3D headset
Marmitek
Gigaview GV820
wireless HDMI sender
Sony
VPL-HW30ES
3D projector
Viewsonic
PLED W500
portable projector
Sony
BDP-SX1 portable
Blu-ray player

HD JuiceBox HDMI over Powerline kit
Alternative HDMI signal routing approach for telly addicts.