HP unveils glass-cased Ultrabook
The iPhone 4S of laptops
CES 2012

Hewlett-Packard announced its next entry into the Ultrabook department at CES yesterday, lifting the veil on the Envy 14 Spectre, a laptop with a glass design and NFC capabilities.
While the market is still relatively new for NFC uses, HP sees it as an important complementary feature, one that may come to prominence as people experiment with it. Intel had already earmarked the tech as a standard feature in future Ultrabooks.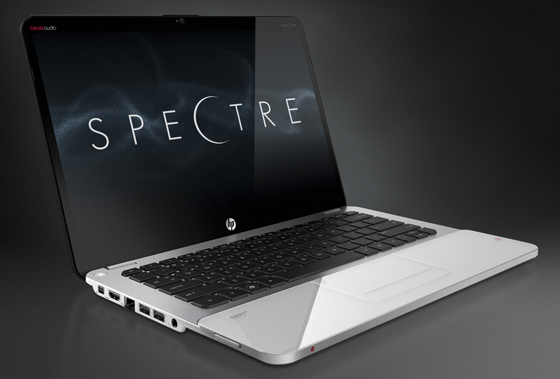 Glass inside...
The Spectre sports a 14in LCD, but squeezes it into the body of a laptop that would usually house a 13.3in display, HP claimed.
Its 20mm-thick body weighs less than 1.8kg but HP insisted the Spectre is resilient, featuring scratch-resistant glass on the lid, display, palmrest and trackpad.
HP boasted that Spectre "breaks every rule" - let's just hope it doesn't shatter.
Powered by Intel's upcoming Ivy Bridge processors, the Spectre will sport a 128GB SSD and a nine-hour battery life. There's a range of inputs packed in too, including Ethernet, USB 3.0, HDMI and mini DisplayPort.
It's clear HP has a heavy focus on music here too. As we've come to expect from the latest HP machines, the Spectre turns up the volume with Beats Audio. It also includes a retro analogue volume dial and external on/off sound button, so users can continue to adjust audio with the lid closed.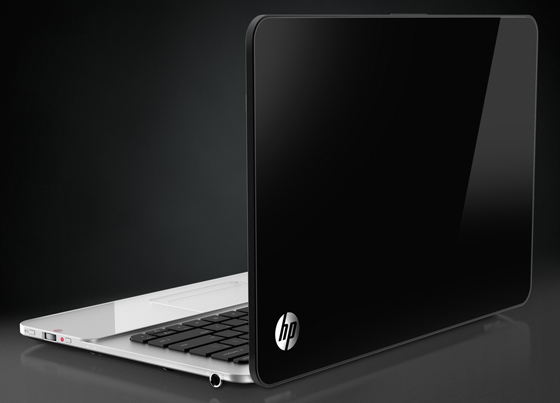 Glass outside...
Another musical attribute the company highlighted was its Wireless Audio feature, including the ability to stream music to multiple speakers and up to four mobile gadgets, or directly to a KleerNet-compatible device.
It sure looks like a beefier, premium version of the company's last Ultrabook, the HP Folio 13, released last November.
The HP Envy 14 Spectre is expected to hit shelves at the end of March with a starting price of £1200. ®