TV Guide UK
See what's on telly - quick
Android App of the Week

I've not bought a TV guide for many a moon, but that doesn't mean I want to sit in So, to keep abreast of what's on the box, I depend on the tv24.co.uk app which is easy to understand, simple to use and, above all, fast.
Open the app and you're presented with a clear and easy-to-read list of what's on at the time, along with tabs to narrow the view to either movies or sport. You can't re-order channels but you can filter out any that are not part of your package.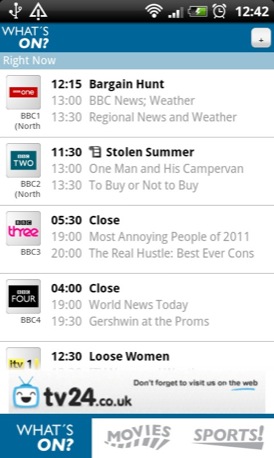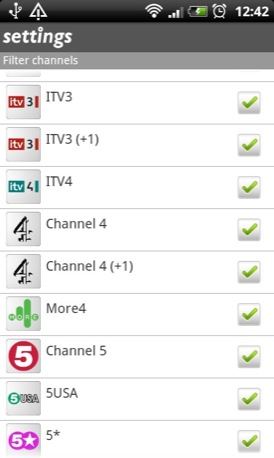 Simplicity is key - even down to the channel filter (right)
I'm not entirely sure how the app selects what order to list channels in, but it starts with BBCs One, Two, Three and Four and then carries on in a way that makes perfect sense to me, so I'm not complaining.
Flip to the movies page and a useful progress bar shows you how much you have missed of any films screening at the time. Scroll down to a film with no green in the bar and you can see instantly that you are looking at a movie that hasn't yet started.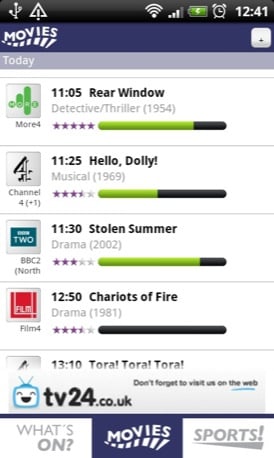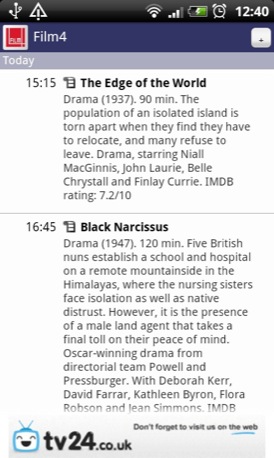 The movie progress bar (left) is handy, and the programme descriptions (right) are good
The main channel guide presents the current programme in bold with the next two listed below making it very easy to see what's on and what's coming up next. Tap on a channel and it opens up to show a detailed description of each programme and its running time.
This detailed view also lets you scroll through each channels complete daily schedule. Tap and hold on a programme and you can share it with your social network or more usefully set an alarm reminder for various times before the start of the show.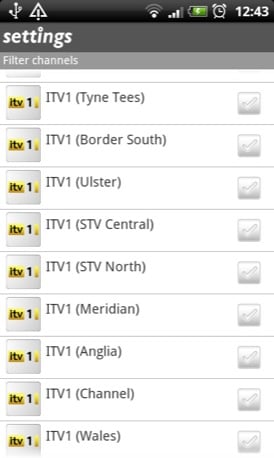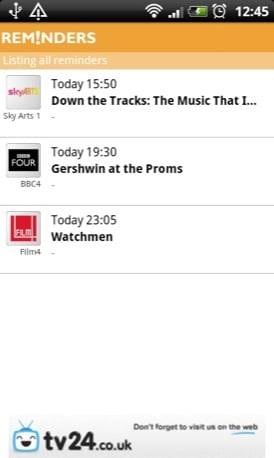 Regional variations are covered (left), and you can set up reminders (right) so you don't miss anything
TV listings extend 14 days into the future. In the main view, you can tap the "What's On" bar to move to another day or time, or use the +/- buttons to navigate backwards or forwards in half-hour hops. Use those same buttons on the sports or movies pages and you move back or forward by 24 hours.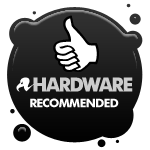 Simplicity aside, what sets the tv24 app apart from the other listings apps I've tried is the quality of the programme descriptions and the speed at which it loads. Even at the end of dodgy GPRS signal in deepest North Wales over the Christmas holidays it worked a treat. ®
Size 2.5MB
App2SD Yes

We make our choice of the best Android smartphone and tablet downloads every Tuesday. If you think there's an app we should be considering, please let us know.
More Android App of the Week Winners

Go Contacts EX
Cocktail Flow
CamScanner
Lapse It Pro
Android
voice assistant
shootout

TV Guide UK
Fast and detailed telly guide.