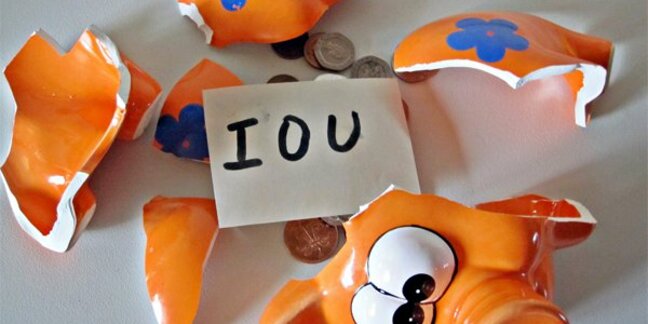 Hot on the heels of its 9145 PCIe flash controller component, Marvell is launching a new controller to make building hybrid drives, spinning disk plus NAND flash, a lot easier.
Hybrid drives pair NAND flash with spinning disks to combine NAND speed with disk capacity and low cost/GB. Seagate provides its Momentum XT drive with flash inside the disk drive enclosure. OCZ has its Revo Hybrid with up to 240GB of flash and a separate 960GB disk drive mounted on one card. Suppliers such as ASRock, Asus, Gigabyte and Microstar are already using Marvell's first PCIe-connected 88SE9130, launched at CES 2011, to build hybrid flash/disk drive products using a Marvell HyperDuo embedded processor.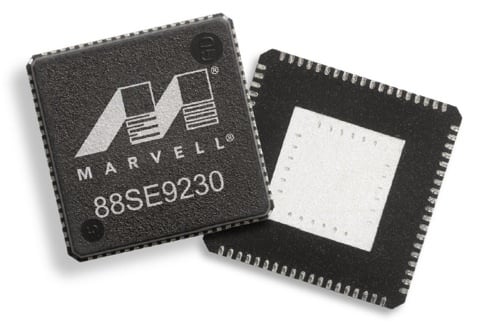 Marvell 9230 hybrid SSD/HDD controller
The 88SE9230 is an update on this, doubling its performance, capacity and scalability. It offers four 6Gbit/s SATA ports for the connection of both hard disk drives (HDD) and SSDs instead of two. It supports PCIe gen 2 X2 – whereas the 9130 supported PCIe gen 2 X1 – plus it has on-the-fly AES 128/256 encryption.
It has RAID 0 and 1 firmware and and an AHCI inbox driver. From one to three SSDs are supported and data on the SSDS can be mirrored to hard drive storage for data safety. Alternatively the flash and spinning disk capacity can be added together with a separate data protection arrangement. You would put hot files on the flash and less active ones are kept on disk.
Shawn Kung, Marvell's storage business group product marketing director, emphasises that this is a tiering system and not a caching system. It's automated tiering that offers, he says, 80 per cent of SSD performance at less than a third of the cost.
Why not use the NAND as a cache? Kung says that dynamic caching would play to the NAND weakness of limited write endurance, which is particularly prevalent with multi-level cell flash. Marvell's MRU utility periodically, say daily, scans the files and folders on the SSD and HDDs and can migrate hot files to the SSD and cold files off flash to disk. Users can, with the aid of a GUI-based management system, force particular files and folders to be fixed ("pinned") in either flash or on disk.
Kung positions the 9230 product as a client or desktop-focused controller with last Friday's 9145 PCIe flash module controller being for servers. The 9230 can also be used in home NAS, set-top boxes and host bus adapters.
Marvell customers can build hybrid storage desktops with their own mix of one to three SSDs and one to three HDDs up to a limit of four drives, with varying capacities and performance. Who are these customers? Micron's release identifies: "ASRock, ASUSTeK, GIGABYTE and MSI for motherboards; Micron and OCZ for SSDs." HighPoint is another customer.
By putting the flash outside the disk drive enclosure, the space limitations and any power supply limitations of that enclosure are bypassed. Hybrid drives with flash inside the disk case could find a home in space-limited ultrabooks and notebooks, with card-based hybrid storage products, having separate flash and disk media enclosures, being used in desktops, PVRs, home NAS, set-top boxes and, possibly, low-end servers. ®
Sponsored: Practical tips for Office 365 tenant-to-tenant migration